Irrigation Business Insurance – Cost and Policies
Whatever type of irrigation business service you run, you need to carefully plan your irrigation business insurance to protect you from the many risks that your business faces.
This is true whether you are running agricultural irrigation services for large farms, for industrial agribusiness companies or for holiday plots.
It is even more important if you are busy installing garden and lawn irrigation in homes.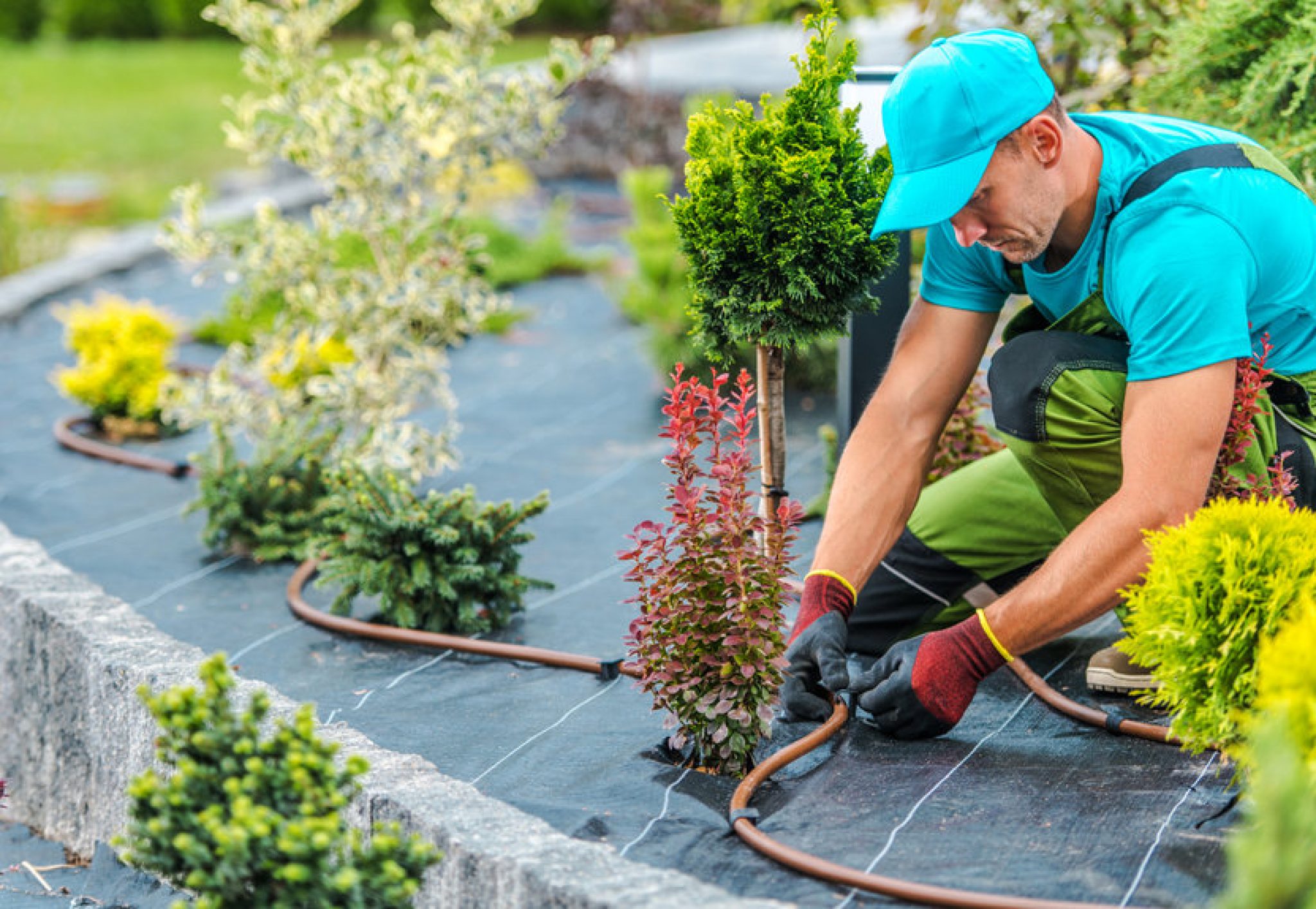 Understanding the special risks your irrigation business faces.
A modern irrigation runs a wide range of services for its customers, and each one of these has its own special features that involve special risks.
If you are working in the irrigation sector, then you could be offering several surface irrigation services like surface irrigation, pivot irrigation, sprinkler irrigation and drip irrigation.
Also, customers can supplement these with sourcing of the water, involving well drilling, plumbing, floating pumps, electrical connections and all the other components of irrigation.
Many irrigation services also go in for parts supply, which involves warehousing, transport, inventory control and many activities that are common to all businesses providing hardware to customers.
Understanding what insurance can provide your irrigation business.
All business activity involves a degree of risk.
It's your job as an owner or manager to keep the risks as low as possible without impacting on cash flow and profits.
An insurance company shares the risks that all businesses face. 
The idea behind insurance is "pooled risk".
If you are uninsured, then if something happens in the course of your business operations that results in a major loss of money, you are on your own.
An insurance company has hundreds or thousands of customers who all face the same unknown risks, and they have carefully calculated the probability that such events could happen.
The insurance company does not care which of the policy holders actually suffered in the event, and it will make a profit as long as it's predictions of averages are correct. 
However, for you as an individual, being without insurance, an event like this could be a complete disaster that wipes out your whole business and could even cost you your personal savings.
This should be the main consideration when you are deciding on whether or not to insure, and even on which company you will insure with.
The question is quite simple – not "can I afford insurance" but "can I afford NOT to have insurance?"
What are the special risks for an irrigation business?
Modern agriculture and gardening has grown increasingly sophisticated in the past few decades, introducing technologies and methods that were unheard of a few years ago.
The revolution is being pushed along by the pressure to build a "green" planet that makes the maximum possible use of its limited water.
This has led to industrial irrigation for agribusiness taking over from the traditional small farms that were the backbone of American farming business in the past.
As well, private homeowners are increasingly aware that upkeep of their gardens must be done without wasting precious water.
Many counties and states are introducing strong restrictions on home gardening watering as summers get hotter and drier.
The Metropolitan Water District of Southern has released its table of outdoor water restrictions for Southern California, limiting homeowners to watering their gardens and lawns just one day a week. 
All business has to be conducted with proper care that the interests and assets of your customers will be protected.
If you are providing these new services to a private customer or corporation, and something unforeseen happens, you need to protect yourself from claims made by them that can land up in front of a judge and jury. There are three main kinds of business liability that you should insure against.
Business liability insurance
General Liability business insurance
General liability insurance protects you in any claim made by another person that they were injured, or their property was damaged, by your irrigation business operations.
This is often referred to as "trips-and-falls" insurance, because it covers you in case someone visiting the place where you are working trips over something you have left lying on the floor.
Injuries resulting from a fall, or damage to their clothing or any other property, can cause them to sue you for recovery. 
This is especially important for an operation like irrigation installation, that has to make changes to surfaces, and needs to bring heavy equipment and parts into a third party's home or place of work.
Until the work is completed, it is impossible to completely secure the workplace, and accidental trips cannot be avoided totally.
Any kind of claim that a third party makes of accidental damage or harm is covered by your general liability policy.
The company can settle  the claim by agreeing to an amount, or it can defend against the claim in court. 
Professional liability business insurance
Especially for irrigation businesses, professional liability insurance is important because it is not always possible to get exactly the result that you contracted for or promised.
If, as a result of the work, something went wrong and the area of work itself, or space surrounding it, was damaged, then the customer may sue your business for recovery of the costs of repairs or replacement. A typical scenario could be where you have been contracted to pressure install a drip irrigation system around an older home.
If there is subsequently some leaking from the piping, it could seep through the foundations of the house and result in a collapse of the whole building. 
Another risk is when you are installing and testing high-pressure water piping.
An accident like a pipe bursting or a junction failing can flood the area, causing substantial damage to floors, carpeting and furniture.
In such a case, the owner of the property can sue for the costs of repairs.
For an irrigation business, you can face serious claims, including bills for medical treatments, hospitalization, rehabilitation, home nursing and many other costs if there is a serious accident on site and someone is injured when you are working there.
If you are working under contract with major builders or agribusiness companies, you should have Errors & Omissions insurance cover.
An example of where this cover would be needed is if you are contracted to complete your irrigation installation by a specific date, and there are penalties in the contract for non-performance.
In case by accident several parts you are relying on do not arrive in time to complete the contract, you could be sued for negligence and may have to face a substantial claim if the owner claims subsequently that they suffered severe financial harm. 
Remember that this kind of insurance is not helpful in case of payment disputes.
If a customer refuses to pay, claiming that the work was not satisfactory, it is not covered by professional liability insurance.
Product liability insurance for business
When your irrigation business is supplying products like piping, pumps, borehole linings, then you should have product liability insurance in case the product is faulty and the customer claims for replacement or repairs.
Even if you are supplying products manufactured by another company, you can be liable in case of defective design or undeclared dangers. 
Benefits of liability insurance
All of the liability policies give the additional benefit that the insurance company has to defend themselves and you, even if you were at fault.
It means you are not responsible for mounting the defense, finding your legal defense team, and maybe the judge can award the claim against you along with their own legal costs.
Assets insurance
Commercial property insurance
If your irrigation business is based in commercial buildings, whether you own them or lease them, must represent a very substantial risk in case of damage.
Events like storms, floods or earthquakes, fires, vandalism and sabotage should be covered.
This cover is known as Commercial property insurance. 
As well as the value of the buildings, the insurance policies also cover the contents of the premises, such as equipment and furniture, computers, etc.
It is important when you set up this insurance to find out whether the policy covers your inventory and stock, otherwise you should also have inventory insurance that covers the stock and goods help inside the buildings against the same risks, as well as theft and burglary.
When estimating the amount of cover that your irrigation business insurance should provide, take into account that the risk of secondary damage can be quite high due to the nature of the mechanical equipment and heavy piping etc.
Commercial vehicle insurance
It is an essential part of the irrigation business operations to be moving bulky material between sites, as well as collecting parts from suppliers or delivering them to the customers' sites.
This will require you to have proper Commercial vehicle insurance.
Remember, you are not insured if you use your private auto for collections or deliveries, or for any business activity.
Commercial vehicle cover gives you higher protection in case of a major claim than private insurance.
You should be looking for between $1 million to $2 million because the risks for irrigation business are generally higher.
Equipment insurance
Most irrigation businesses need to invest a lot of money in the special gear and appliances that modern technology needs to meet customers' requirements.
Most of the time, this equipment is not under your supervision because it is left at the workplace.
This creates a risk of damages, loss or theft.
To protect yourself, you need to carry Equipment insurance that gives you the guarantee that you can replace any missing equipment at once and get the money back from your farm irrigation equipment insurance quickly.
How much insurance should an irrigation business have?
The proper levels of insurance depend on the specific features of your own business, such as the size of the business, as the type of irrigation services you provide, where it is located, your own claims history and so on.
The most important feature is whether your business is engaged in large contract work with farms and agribusiness, or is mostly doing smaller projects for private homeowners.
In the following table, we show some general guidelines of the best levels and costs for irrigation system insurance that we can give based on our own experience dealing with businesses that deal in similar sectors, such as Handyman Liability, Solar panel contractor, Roofing, Freelancer, Fence Installation, General Contractors , Plumbers, Painters, Electricians, Glaziers, Carpenters, and Groundskeeping and Landscaping.
You should consult with insurance brokers as well as the agents of irrigation insurance companies to get the right deal that suits your exact needs.
The following are the general levels of cover recommended for these kinds of businesses, with rough estimates of the range of expected costs for annual premiums:
Insurance type

Basic level of cover

Expected range of annual premium

General Liability 

Farms & Agribusiness: $5 million full year, $1 million for a single claim

$1200 – $2500

Private gardens: $1 million full year, $250,000 for a single claim

$300 – $550

Professional Liability (Errors & Omissions)

Farms & Agribusiness:  $500,000 full year

$100,000 single claim with $2000 deductible

$800 – $1300

Private gardens: $250,000 full year, $50,000 for a single claim with $500 deductible

$500 – $750

Product liability insurance

Farms & Agribusiness:  $1 million for the full year, $250,000 single claim with $1000 deductible

$800 – $1000

Private gardens: $250,000 full year, $50,000 for a single claim with $500 deductible

$500 – $900

Commercial auto insurance

Based on replacement cost

$1350 – $2300

Commercial property insurance

Calculated on insurable value (IV)

$0.35 – $0.50 per $100 IV

BOP insurance

$5 million general liability + calculated commercial property cover

$350 – $500 & $0.30 – $0.45 per $100 IV
Can I take BOP cover for my
farm irrigation insurance
?
Some irrigation insurance companies will sell you a Business Owner Policy (BOP) policy that combines general liability insurance, commercial property insurance.
You can also opt for business interruption cover.
It provides increased coverage and is generally cheaper than separate policies.
What does deductibles mean?
The deductible amount is a way to reduce premiums.
This means you pay the agreed part of any insurance claim, up to that amount.
The insurance companies want to avoid "nuisance" claims that mean high administration costs for claim handling.
You should talk about this with your insurance agent, or insurance broker to see how much you can save on the policy premiums.
What are the common types of irrigation businesses in the USA:
| Type of Irrigation Business | Description |
| --- | --- |
| Irrigation Design and Consulting | Businesses that specialize in designing and planning irrigation systems for residential, commercial, and agricultural clients. They often provide consulting services to help clients choose the best irrigation solutions for their needs. |
| Irrigation Installation and Maintenance | Businesses that specialize in installing and maintaining irrigation systems for residential, commercial, and agricultural clients. They may also offer repair services for existing systems. |
| Irrigation Equipment Sales | Businesses that sell irrigation equipment, including sprinklers, pumps, valves, and controllers. They may sell directly to consumers or work with irrigation installation and maintenance companies. |
| Irrigation System Inspection and Auditing | Businesses that provide inspection and auditing services for irrigation systems, to ensure they are functioning efficiently and effectively. They may provide recommendations for improvements or upgrades to the system. |
| Water Management Consulting | Businesses that specialize in helping clients manage water resources, including irrigation water. They may provide services such as water conservation planning, water quality testing, and water use tracking. |
| Drip Irrigation System Specialists | Businesses that specialize in designing, installing, and maintaining drip irrigation systems, which are used in agriculture and landscaping to deliver water directly to plants at their roots. |
| Greenhouse Irrigation System Specialists | Businesses that specialize in designing, installing, and maintaining irrigation systems for greenhouse operations. These systems are often customized to the specific needs of the plants being grown. |
Note that this is not an exhaustive list, and there may be other types of irrigation businesses in the USA as well.
FAQ:
What type of insurance do irrigation businesses typically need?
Most irrigation businesses typically need general liability insurance to protect against claims of property damage or bodily injury caused by their work.
They may also need professional liability insurance to protect against claims of errors or omissions in their work, as well as property insurance to protect their equipment and property.
Do irrigation businesses need workers' compensation insurance?
Yes, if the business has employees, they are generally required to have workers' compensation insurance to cover the cost of medical treatment and lost wages if an employee is injured on the job.
Is commercial auto insurance necessary for irrigation businesses?
If the business owns vehicles that are used for work purposes, such as transporting equipment or supplies, they will need commercial auto insurance to cover accidents or damage that occurs while the vehicles are being used for business purposes.
How much does insurance for an irrigation business cost?
The cost of insurance for an irrigation business can vary depending on a number of factors, such as the size of the business, the type of work they do, and the level of coverage needed. It's best to get quotes from multiple insurance providers to find the best coverage at the most affordable price.