Carpenter Liability Insurance – cost and types of policies
Suppose you are working as a carpentry handyman, or run a small carpentry business, like any good manager. In that case, you need to understand that protecting your business and your assets requires proper and adequate Carpenter Liability Insurance.
This article will try and help you understand all the different aspects of carpentry business insurance.
We hope you, in the end, will appreciate just how important it is, and finally, find the right combinations of all the options out there waiting for your choice.
Carpentry is a skilled service and generally in high demand.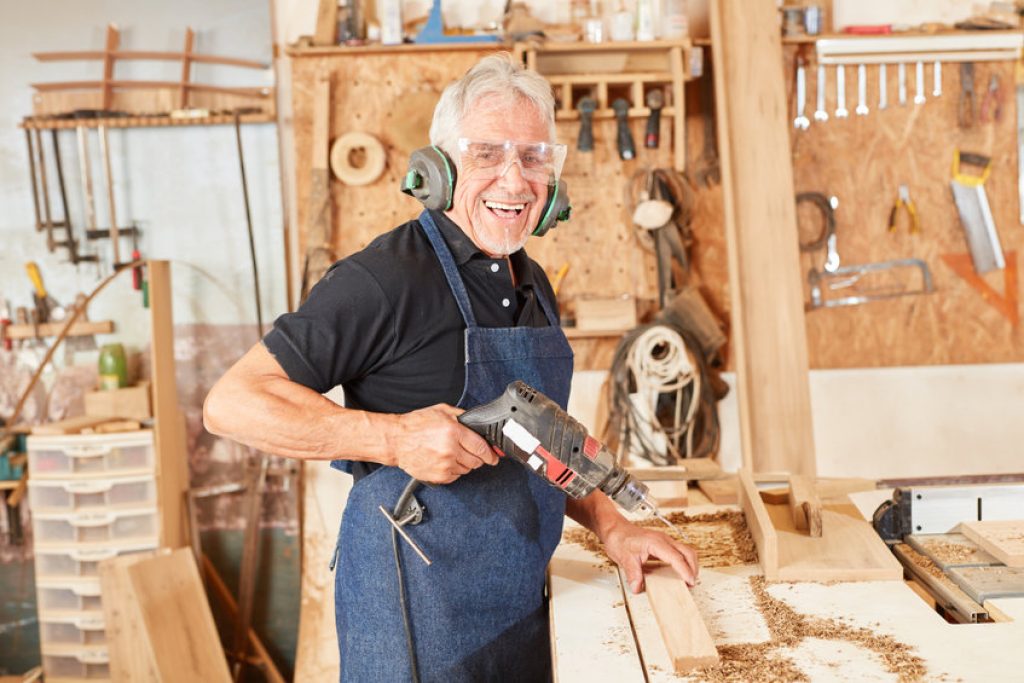 Homeowners finding things they want to be upgraded or fixed usually realize that they are not themselves the right person for the job.
Suppose it involves anything to do with woodwork, like doors, window frames, floors, staircases, and many more modern home features.
In that case, they should be reaching for the Yellow Pages, or searching on the internet, to find a qualified carpenter.
In the construction world, carpenters are central to the erection of new shopping centers, office complexes and many more business centers. Here, specialized carpenters are in short supply and business is brisk.
But what exactly does a carpenter do?
The terms carpenter, woodworker and handyman can be mingled, because many tasks are shared.
People describe themselves according to what they think best attracts new business.
Carpenters and woodworkers can do anything related to wood or related materials, like drywalls, parquet flooring, panels, moldings and much more.
In many states, basic home frameworks are built of timber, and carpenters can do things like adding decks or patios, room extensions, outdoor games rooms, garages, etc.
A carpenter could be engaged to make improvements to almost every part of a home, and typically would be called a home improvement carpenter.
In most cases, these are short-term jobs, and what we are writing further on in this article about short-term insurance should be interesting if this is your kind of carpentry business.
Do carpenters need insurance?
Any business, whether full-time or part-time, should have insurance.
By engaging in commercial activity, you are opening yourself up to risks.
You could face substantial claims which can come from all sides.
You may be asking whether you need carpenters' insurance coverage, but can you afford not to have insurance?
What kind of insurance does a carpenter need?
When operating any sort of business, there are three absolutely essential types of cover that you should have:
General Liability Insurance
Professional Liability Insurance
Workers Compensation Insurance
As well, there are many more kinds of cover that you can take out to match your own personal business size, scope and level of investment.
Typically these are:
Equipment Insurance
Commercial Vehicle Insurance
Product Liability Insurance
Error & Omissions Insurance
Hazards Insurance
In the following section, we will briefly describe where the need for each of these insurances comes from in a typical carpenter's business.
If you feel that they fit into your business plan, we strongly suggest that you follow the links we have provided, where you can read much more detail about these kinds of policies.
Why does any business need liability insurance? This insurance is a must-have type of coverage for anyone involved in business operations like carpentry that provide specialized labor and material services to their customers, such as
It covers you for financial losses caused to third parties by bodily injury or property damage.
As well as any related medical or legal expenses, and some companies offer cover for ancillary covers such as slander and libel.
Accidents can occur at any time while conducting your business activities.
There is a legal duty that you will conduct your work in a manner that doesn't endanger people in the immediate work area and protect the property itself against damages resulting from your work.
When you are working on some homeowner's property, in offices and shops, there is a risk of damaging the roof, floors, driveways, or any other area of the property.
As a business owner, the law says you have a primary responsibility to exercise "duty of care" to prevent any injury or damage to a third party.
Suppose you are installing the windows and door frames in an open area with public access.
Suppose you accidentally drop a heavy tool onto a passerby who walks through the area, and he or she sustains multiple cuts and bruises. In that case, you cannot plead in defense that you didn't directly cause harm, because the person shouldn't have been in the area.
This is what the public liability component of carpenter's insurance will protect you from.
It gives you liability insurance cover specifically designed to cater to the sort of accidental injuries and damages that can happen while you are engaged in your everyday business activity.
Bodily injury and property damage liability are probably the two most essential parts of insurance.
You need public liability insurance if you own a business that operates outside of your own premises open to which members of the public, customers or clients may have access, such as people in their own homes or business premises where you work.
Public liability insurance helps protect you and your business from claims if there's some accidental bodily injury or property damage to some third party.
You should get protection if customers allege acts involving negligence, errors, or omissions.
If the matter turns into a lawsuit, even if the case against you was found to be without merit, the cost of defense can be substantial, and the impact on your reputation can be damaging.
You should consider purchasing Professional Indemnity insurance if your business offers the following:
A professional service
Professional advice to clients
Contractual services.
If you or your business provides these professional services, you need professional liability coverage because these services come with risks.
You could be held liable for:
breach of contract
providing incomplete work
providing substandard work
work errors or oversights
missing deadlines.
Suppose your customer claims that any of these resulted in financial losses or reputational damage for them.
In that case, they could sue to recover from you all damages.
If the matter becomes a legal case, you need coverage for the associated attorney fees and court costs along with the actual settlements or judgments.
And this could be for both your own associated costs, but for the other party's as well if the decision goes against you.
Sometimes, an unsatisfied or demanding customer could sue your business over a perceived problem, even though you are confident that your work was completely professional.
In that case, you might win the lawsuit but still have to pay attorney fees and court costs out of pocket.
Without professional liability, a lawsuit could present a significant financial difficulty for your business.
In most states, this type of insurance is legally required for any business where the company employs one or more workers.
It's important to know that the term "employee" is not restricted to full-time workers, but includes part-timers, temporary, casual workers, and subcontractors.
Workers' compensation insurance protects such employees from any injuries or illnesses that are a result of work.
The insurance covers the employee's wages for the time while he is off work sick or injured and his medical expenses.
It can also protect the employer from lawsuits connected with an unsafe work environment as long as he follows OSHA requirements.
To be eligible to get any payment from workers comp insurance, the injury or illness must be directly related to work.
In the carpentry business, working at heights with dangerous equipment is a necessary part of the job.
This is why, to protect yourself and your employees, you must have workers' compensation insurance.
Notes:
There are monopolies on workers comp insurance in some states, and not all companies are allowed to sell it.
Always talk to an insurance agent, broker, company representative or check on the internet to find out the regulations for the state where you are operating.
If you run a multi-state business, you must cover the workers in each state separately per that state's rules.
Since carpenters need specialized and costly equipment, it is very expensive to replace it in case of any damage, loss, or theft.
In particular, the equipment has to be moved around extensively and sometimes stored in insecure and unsafe environments.
The tools may be subject to malicious damage, deliberate fire, theft, other such deliberate acts, or acts of nature like lightning strikes, hurricanes, earthquakes, and other highly damaging natural events.
Unless you can afford to immediately replace such expensive gear quickly out of your own pocket, you should have full-level equipment insurance so that you can immediately buy any equipment needed to keep the business running.
And given that the typical sorts of tools you need aren't cheap, where even a powerful bench saw can cost more than $1500, it may be hard to replace immediately in the event of theft.
There are a multitude of different tools that can be insured including hired equipment, and personal tools including hand tools and power tools.
Apart from tools, you will also probably use a vehicle to get to and from job sites.
You can use your personal vehicle initially, but must beware of the possibility that your car insurance doesn't cover the loss of contents and damage if the vehicle is used for business purposes.
Beware – most policies for car insurance do not cover the theft and damage to private vehicles used for business purposes, which is another big reason you absolutely need commercial carpenter vehicle insurance.
The right way to ensure that your vehicle is insured for both its own value, and the valuable contents, is by taking out a proper commercial vehicle insurance package.
Commercial vehicle insurance covers the value of any vehicle in case of malicious damage, fire, or theft.
As well, in case of any accident, the vehicle itself, the content and any legal bills, medical expenses, and property damage is covered if the company's vehicle is involved in an accident.
Most states, other than Virginia and New Hampshire, require this type of insurance.
Most insurance companies will extend the cover to vehicles owned by employees used in work activities, or leased/rented by the company.
Each state sets its own laws defining the procedure for making claims against companies.
For example, in California, all elements in the supply chain, including manufacturers, distributors, and retailers, can be held responsible for claims of injuries and damages caused by products claimed to be defective.
Each year, nearly half a million Americans have suffered injuries, which they claim were due to the use of defective products.
Suppose your business acts as the supplier of the woods you are installing.
In that case, you need to be protected against financial loss due to a defective product that results in a complaint and the requirement to replace the defective material plus the possibility of claims for damages.
Errors & Omissions insurance is an insurance policy for businesses that protect themselves against claims from their clients.
This insurance often covers negligence, copyright infringement, etc. This may include damage from things you did and/or had to do.
Common coverage includes:
client damages arising from services provided by your company or by your company's failure to provide such services when contracted to do so
copyright law oversights or mistakes or misunderstandings resulting in copyright infringement
reputational injury arising from libel or slander whether or not it was true
Let's look at some real-life examples relevant to a carpentry business.
Suppose you manage the timber materials acquisition for a building project and accidentally forgot to give your client some required approval documentation. It may result in project delays costing thousands. The customer can sue you for the entire cost to him of the delay, plus things like "reputational damages." The bill can far exceed the value of your business, and on top there can be massive legal fees on both sides.
Short-term insurance
Are you working part-time or casual?
Using short-term insurance makes perfect sense if you are using the demand now for short-term casual carpenters.
You can earn good money without having to dedicate a full working schedule.
Business insurance by the month, day, or month – temporary insurance – may be a good option for self-employed casual carpenters who do not have enough continuous business activity to justify full insurance cover for a whole year.
As well, if your full-time business is highly seasonal, such as a carpenter who works on outdoors structures and can't keep up the level of activity through winter months, then it is possible to add more cover when you need it.
Many insurance companies have begun to offer special policies where you can nominate a specific period when you want to be covered.
By only paying for the period of cover that you need it for, you will save by having lower premium costs while still having the same risk cover.
Suppose your new carpentry business is only active in the summer months, when you are specializing in outdoor decking and patios.
It means you don't do the same level of business activity every day or week or month.
In that case, temporary carpentry business insurance can be an excellent alternative to full annual cover.
The key feature of short-term insurance is that you purchase the cover for a specific and defined period – a date on the calendar, or a week starting on a specific date, or a month – for example for 30 days beginning on the specified date, or 24 hour carpenter liability insurance for one specific date.
Insurance for "mornings only" or such is not available.
Temporary insurance coverage can provide you with all the usual protection from risk in the same way as regular annual cover.
When you are expecting periods of higher risk, get the existing cover increased.
Talk to your insurance agent, broker or the company's representatives to see what options you have.
What will carpentry business insurance cost?
The cost of carpenter's insurance varies across states, and depends on the level of coverage you choose, as well as the components of the package.
For starters, public and personal liability basics should cost around $90 – $150 per month for a small business.
The other parts of your policies depend heavily on how much cover you need.
So for example, if you've got a lot of money invested in stock and equipment, then equipment cover will be more than if you've just got a modest toolkit.
Consult with a reputable broker or agent that can find you the best policies that match your needs.
Brokers don't cost you anything – they receive commissions from insurance companies when they sell policies, so make use of their expertise and time to find what's best for you. We are sure you'll find the right insurance package at the best possible price.
It is important to pay attention to the aggregate limit that a carpentry business insurance policy states.
This number indicates the payout limit for any and all claims for the entire term of the policy.
On that note, you should also make a note of the deductibles for the insurance policy, which is the amount you will have to pay out of pocket, before the insurance company picks up the rest of the tab.
FAQ
Where can I buy insurance for my carpentry business?
You can find the right cover by enquiring from qualified sources on which companies offer the best terms and conditions that suit your specific circumstances.
Spend some time searching on the internet, to pick companies and brokers near you who will be able to locate the best deals suited to your needs.
There are hundreds of insurance companies, agents, and brokers who are keen to get your business.
While it's easy to get offers, make sure you are not just jumping at the first, or the cheapest, offer.
Talk to your business advisors, your bank, colleagues, or any professional associations in your community.
Does a carpenter need to be certified to get insurance?
In all states, certifications are not mandatory.
However, it is always recommended for carpenters since it shows that you are more experienced and have the necessary skills.
You may also be able to get a cheaper rate of insurance cover if you are certified, since it gives evidence of your skill and experience.
Usually, certification is only granted after apprenticeship, which provides the training courses needed to acquire a certificate.
Near me – Information by state:
Carpenter insurance in Alabama
Carpenter insurance in Alaska
Carpenter insurance in Arizona
Carpenter insurance in Arkansas
Carpenter insurance in California
Carpenter insurance in Colorado
Carpenter insurance in Connecticut
Carpenter insurance in Delaware
Carpenter insurance in Florida
Carpenter insurance in Georgia
Carpenter insurance in Hawaii
Carpenter insurance in Idaho
Carpenter insurance in Illinois
Carpenter insurance in Indiana
Carpenter insurance in Iowa
Carpenter insurance in Kansas
Carpenter insurance in Kentucky
Carpenter insurance in Louisiana
Carpenter insurance in Maine
Carpenter insurance in Maryland
Carpenter insurance in Massachusetts
Carpenter insurance in Michigan
Carpenter insurance in Minnesota
Carpenter insurance in Mississippi
Carpenter insurance in Missouri
Carpenter insurance in Montana
Carpenter insurance in Nebraska
Carpenter insurance in Nevada
Carpenter insurance in New Hampshire
Carpenter insurance in New Jersey
Carpenter insurance in New Mexico
Carpenter insurance in New York
Carpenter insurance in North Carolina
Carpenter insurance in North Dakota
Carpenter insurance in Ohio
Carpenter insurance in Oklahoma
Carpenter insurance in Oregon
Carpenter insurance in Pennsylvania
Carpenter insurance in Rhode Island
Carpenter insurance in South Carolina
Carpenter insurance in South Dakota
Carpenter insurance in Tennessee
Carpenter insurance in Texas
Carpenter insurance in Utah
Carpenter insurance in Vermont
Carpenter insurance in Virginia
Carpenter insurance in Washington
Carpenter insurance in Virginia
Carpenter insurance in West Virginia
Carpenter insurance in Wisconsin
Carpenter insurance in Wyoming