Locksmith Business Insurance – cost and types of policies
When you are working in the ancient and honorable trade of a locksmith, your customers are entrusting you with the safety of their lives and their possessions, and you need to preserve that trust by carrying the necessary locksmith business insurance covers that this unique industry requires.
Especially now, when modern electronics are taking over so many aspects of daily routines, being a locksmith means much more than being able to cut keys. 
Below are just a few of the scenarios that have been reported that illustrate just how much people are dependent on good, trained and skilled locksmiths to get themselves out of unforeseen situations.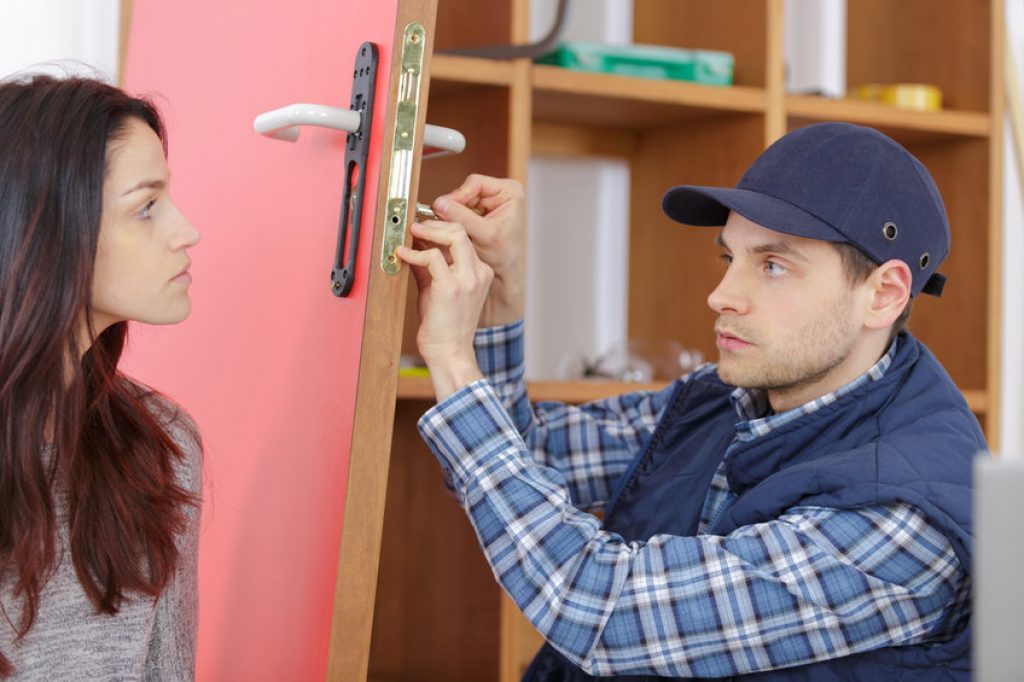 Although all of the short stories may sound simply interesting, we are telling them for a particular reason.
Locksmiths provide special services that can create situations where the level of trust given to you by your customers leaves you vulnerable to unexpected outcomes. 
For example, if anything goes wrong, you are covered properly by insurance to replace whatever may have gone wrong.
These possible outcomes mean that as a locksmith business, you have to protect yourself especially well in the field of liability insurance.
Locksmith insurance coverages usually pay special attention to this area, covering the three main aspects of liability.
Some samples of locksmith business happenings:
A simple matter of the only key to the cellar in a home in the middle of a freezing winter storm pre-Xmas being dropped accidentally into their dog's food bowl, and promptly swallowed, meant the family couldn't get down to adjust the settings on their oil burners, or even check if they had enough fuel to see them through the holidays.


Having a friendly local locksmith who could come out within a few hours and not only open the door, but also replace the lock with an electronic key-pad control meant the family was able to enjoy their holiday together in warmth, without the worry that their beloved pooch would have to be operated on to retrieve the key, or that this would ever happen again

A large block of apartments in an uptown suburb had been built with similar front-door locking systems.
Once a single apartment had been robbed by having the lock forced, the residents were all in danger of the same thief with knowledge of the particular lock now having open access to their homes.
By calling on the services of an experienced security expert, he was able to determine just how the thief had managed to force the lock open, and he could assure them that the problem didn't involve the lock itself, which was good quality, but that the original strike plate had been too soft so that the thief could force a hard tool between the frame and the lock and slip the dead-bolt out of the way.
By replacing the strike plate on the door frame with one made of metal which is much stronger than the materials that were used to make their doors, it prevented the bolt from being retracted without a key.
A nightmare scene happened on a hot summer day when a mother needed to park outside the shopping center to quickly run in to buy milk for her baby in the car.
To keep the baby happy, she handed her the bunch of keys which had some soft, colorful toys the kid could play with for the few minutes she would be out of the car.
Unfortunately, she forgot that her spanking new electric vehicle had a self-locking mechanism so that the doors locked when no one was sitting in the driver's seat.
So now she was locked out of the car, with the keys inside in the crying baby's hands and no way to get them out of the hot car.
Fortunately, a mobile locksmith was passing with his van full of all the latest electronic gear, and all he needed to know from the lady was her digital code.
With a sophisticated remote control, he could pop open the driver door lock, and she was back in the car in a few seconds – no damage like smashed windows costing thousands to replace and a traumatized child
One of the hardest jobs a locksmith can be asked to perform is to open a safe for which either the key or the digital code has been lost.
Emergency safe opening isn't a job every locksmith can provide, but if you've had the training and you have the tools, then you have an enormous pool of potential customers in private homes, businesses and even government offices.
Although all of these situations may not sound relevant to insurance for locksmith companies, they do have a particular reason for you to learn from.
Locksmiths provide services requiring a high level of trust from your customers.
This leaves you vulnerable to outcomes that didn't exactly meet expectations.
For example, demonstrating that you can open safes means you must be able to show the customer beforehand that if anything goes wrong, you are appropriately covered by insurance to replace the safe or its valuable contents.
Similarly, digitally manipulating a car's security system could lead to a complaint that the whole car was no longer operating, and replacing the security system could cost tens of thousands of dollars. 
These possible outcomes mean that as a locksmith business owner, you have to protect yourself especially well in the field of liability insurance.
Locksmith insurance coverages usually pay special attention to this area, coving the three main aspects of liability:
General Liability

Errors and Omissions (E&O)

Product liability.
General Liability insurance (also sometimes known as Public Liability insurance) protects you in case any accident in your workplace, or in a customer's home or workplace, causes damage to their property or injury to a person, For example, if something happens to a customer or member of the family while they are in the area where you are working, you could be sued for damages.  
For locksmith businesses, a frequent cause is when someone trips and falls trying to navigate around a door you have removed to work on.
At any time during or after you started working, a person who has a fall may claim that your tressels, workbenches or work tables were placed dangerously, causing them to injure themselves.
Another possibility is that your sharp worktools caused some damage to the carpets, wallpaper, or furniture during your work in a home.
In such scenarios, you could be regarded in a court as being responsible for the consequences and if you lose the case you could have to pay substantial damages as well as legal costs.
Locksmiths' General liability insurance can cover your for all these potential claims.
Errors & Omissions insurance (also known as Professional Liability insurance) is an essential form of cover for your Locksmith insurance applications because, as we said in the beginning, your customers have placed a great deal of faith in you to perform your services properly and professionally. 
E&O insurance is essential for locksmiths to give protection in case customers make a claim that you performed your services without due care, proper attention or the required levels of skill, or even that service was not what you were engaged for.
If the matter turns into a lawsuit, even if you won, the cost of defense can be substantial, and it can have a damaging effect on your reputation.
Product Liability insurance is also vital if part of your business involves supplying your customers with locking devices and security systems. 
As well as the three kinds of liability insurance above, you need to protect your assets and your workers like all other kinds of business.
For this, you need to take out the specific types of insurance like:
Asset protection
Every business has to protect itself and its assets from manmade risks like theft, vandalism and arson, and the forces of nature such as storms, hurricanes, earthquakes and floods, and from.
In this, locksmith businesses are no different.
The basic areas that you should be covering are:
Land, buildings and improvements
Commercial insurance for buildings and contents covers you for the cost of repairing damage to the structure of your workplace, typically caused by natural events like fires, explosions, storms, floods or earthquakes, for any general business-related content like computers, furniture and fittings (but not for specialized work-related equipment used only for locksmith activity), or by manual damage like arson or vandalism.
As well,  the cost of replacing items such as pipes and drains in garages, and fences, are also covered.
Equipment
Equipment for modern locksmiths is becoming highly developed and is therefore expensive.
Keeping your business going properly depends on having all the right tools and equipment on hand at all times.
When they are lost or stolen, you can't wait around until you have found enough money to replace them, but with good equipment insurance, you will be able to file a claim and probably be out shopping at the insurance company's expense within days.
Company Vehicles
Commercial vehicle insurance means it is essential to carry locksmith van insurance both if you own or lease a truck or van, and even if you are using your private vehicle for business purposes.
The replacement cost of a commercial vehicle and its contents in case of total loss can run up to tens of thousands of dollars.
Also, finance companies won't be prepared to loan you money to purchase unless you take out fully comprehensive insurance.
Stock and inventory
Your investment in stock and inventory is usually covered as part of commercial insurance policies, but if you are storing hazardous materials or have high levels of parts, you should find out if you need supplementary cover.
Find out if your business can take out a Business Owners Policy (BOP) insurance, which bundles commercial property and general liability cover into a single insurance policy.
It can be cheaper than taking out the individual coverages.
Worker compensation insurance
Workers compensation insurance is legally required in most states.
Any business that employs more than its specified number of full time, part-time, casual or sub-contract workers is required to have this cover, with the state regulations setting the rates charged for the cover. 
It covers your employees from any injuries or illnesses resulting from work-related events. 
How much would you expect to pay for locksmith business insurance?
The levels of cover you need and many specific features about you and your business will affect the charges for the cover.
Shop around between local insurance brokers and agents, do some research on the internet and then commit to a policy.
Your level of qualification and experience, claims history, and other factors will influence how much locksmith insurance costs.
Based on our own experience and knowledge of other businesses that operate with similar risks to yours, such as Handyman, Roofing repairs, Solar panel installers, Plumbers, Painters, Glaziers, Electricians, we can provide very general guidelines.
| | | |
| --- | --- | --- |
| Subject | Level of cover | Likely average cost per year |
| Public liability | $2 million per year, maximum $1 million single claim | $800 – $1300 |
| Professional liability | $100,000 full year, $50,000 single claim | $650 – $1000 |
| Product liability | $1 million | $550 – $1200 |
| Commercial | Per $500,000 value | $125 – $345 |
| Equipment | Per $50,000 value | $120 – $250 |
| Vehicle | Based on value | $1200 – $3000 |
FAQ
Do any customers get insurance cover for locksmith services you provide?
Here's some good news.
Many people and businesses are already covered when they have insurance for locksmith in case they need professional locksmith services, so that you are guaranteed payment.
It's a great way also to attract business, if you keep in touch with claims adjusters who know about the current claims and can steer business your way.
Can you get temporary insurance for a part-time locksmith business?
Suppose your locksmith business is seasonal (meaning you don't have continuous business over a whole year).
In that case, short-term insurance may be a good option.
Some insurance companies offer a policy to nominate cover for a specific and defined period, for example, the six summer months.
You will have lower premium costs with the same risk covered because you pay only for the period you need.