Groundskeeping and Landscaping Insurance
In the following article, we are presenting the essential facts about Groundskeeping and Landscaping Business Insurance, to help you get it right.
If you are already a part of the lawn & landscaping services industry, or are thinking of joining this booming sector, then you should already be aware that it is a big and important industry, which means every aspect of the operation needs to be run properly.
And proper business practice means having the right, and enough, insurance.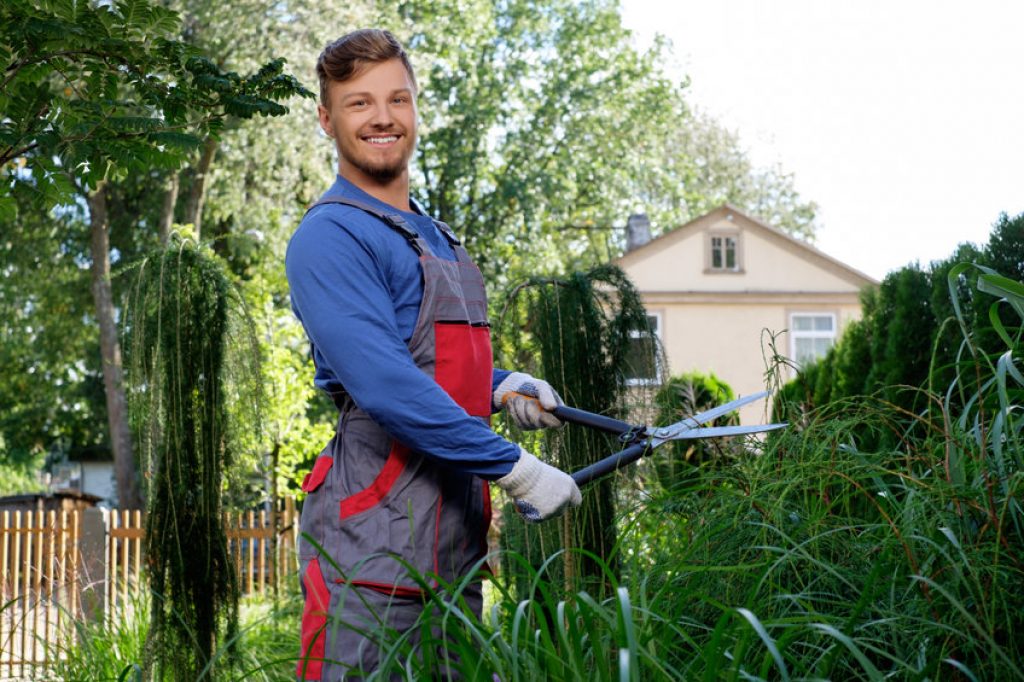 So how large is the lawn & landscaping services industry?
The groundskeeping and landscaping services industry is the 108th largest in the US.
Two different things will tell you just how big this sector is.
Turnover for the current year for the landscaping services sector is projected to be $105 billion.
Although the impact of the coronavirus was to cause a tiny (0.2%) fall from the previous year, the industry as a whole has been showing an impressive 2.5% annually since 2016, which was faster than the overall economy.
In Florida, there has been a higher than average demand for landscaping and groundskeeping services, owing to the more frequent hurricanes that tore up gardens and required urgent rebuilding. For a different reason, Texas has also seen more than average growth in recent years.
The names of the companies that supply equipment and products to the sector reads like a list of the best-known and largest conglomerates in the world.
Names like Honda, John Deere, Briggs & Stratton, and Makita are dedicating major marketing campaigns towards companies in the lawn & landscaping services industry, and massive chemical companies like Bayer, Turfgro, and Lesco all go out to get business from this very well regarded business sector.
Is hi-tech shaping the Groundskeeping and Landscaping business?
The advent and rise of new electronic technologies has been a key factor to the introduction of new equipment in the landscape industry.
In California and various other states, proposals that have been introduced to ban handheld gas equipment are making electronics the key to the future in landscaping and gardening.
One such usage of electronics is in flying drones for surveying and quote preparation.
Electronic cameras are able to map and track activities and feed information back into the central office for job documentation and work verification.
Can a small groundskeeping and landscaping business succeed?
Any small business has special challenges, and special opportunities.
If you can find your niche – what makes you different from your opposition – then you are well on the way to success. Generally, established businesses tend to appeal to their existing customer bases.
If you start off by offering services that no one else is, then you'll quickly get business that the competition has missed.
Be innovative by becoming the first to introduce new ideas and techniques.
In groundskeeping and landscaping, style is just as important as technique.
With regards to customers, you should note that your potential customers likely to use your services would be landowners, homeowners, businesses, and public sector organizations.
There are also certain organizations such as sports clubs, charity, and conservation trusts that may require groundskeeping and landscaping services too.
Growth doesn't come by itself.
You have to plan, and run your business professionally.
Keep track of the more popular garden styles and content in each area, the general condition of the homes, and the types of people who reside there.
Landscaping services are also needed for commercial premises such as shopping centers, hotels, schools, etc.
To jumpstart your business, you may want to approach a few potential customers that you feel may need to have existing gardens reworked.
You can then leave your business card with potential customers, so that they can get in touch with you when they are ready to use one or more of your services.
Once you have determined your potential customer base, check out online portals to see the number of lawn and gardening service operators available in each respective area.
The last thing you want to do is serve an area that is oversupplied with existing service operators and contractors.
When researching the competition, pay attention to the services and prices they offer, and possibly even the suppliers they use to source their materials.
Be prepared in the beginning to offer more competitive prices, at least until you have established yourself in the area.
All of these things are part of any new business, and so is insurance, because every business activity comes with some degree of risk.
Let us walk you through what we have learned are the essentials that businesses have come to expect in the area of insurance.
Do all businesses need insurance?
In general terms, businesses need insurance as protection from unexpected events.
A well-run business has budgets, forecasts, and projections.
As long as everything is going according to these carefully laid plans, then nothing can happen to prevent you from reaching your targets for sales, costs, growth, and profit.
But – there's always some "but" Accidents happen, to you, to your workers, to your customers, on-site, on the way to work, or on the way home.
Something entirely outside your control can take over, like a natural disaster, an earthquake, or a massive fire in the buildings around you.
Insurance requirements for the self-employed landscaper
If you work for yourself rather than as an employee of a company, in fact, this means that if you are a freelancer.
You are both a business owner and an employee in that business.
You have to take care of your rights, including providing your own health care insurance.
As well, you need to make sure you are protected against any possible claims that can arise from conducting a business.
The most important difference is that you are fully responsible for everything, including paying for any judgements that may be made against you.
In this respect, you would be better off having established a company, where liability ends in such a case.
Can you get short-term insurance for seasonal or contract landscaper work?
Business insurance by the month, day (24 hours), or month – temporary insurance – may be a good option for a groundskeeping and landscaping business where you do not have enough continuous business activity to justify full insurance cover for a whole year.
This may be because you are establishing the business as a startup and are just testing the waters, or maybe you have seen that the demand is highly seasonal so that it makes sense to shut up shop for a few months rather than sit around and wait for the snow to clear.
The problem here is that most insurance companies sell their cover on an annual basis and calculate the premium for their policy to cover their exposure over 12 months.
For casual and part-time business work, the cost of a full year's cover may not be justified, but that could lead you to make a bad decision to ignore the risks just to save a few dollars when the possible damages, if something does go wrong, can be massive.
If a court decides against you, the settlement could run up into tens of thousands of dollars or even more.
Short-term Insurance
Fortunately, some insurance companies have begun to offer special policies where you can nominate a specific period when you want to be covered.
By only paying for the period of cover that you need it for, you will save by having lower premium costs while still having the same risk cover.
Suppose you're offering your services as a landscaper to a contractor putting up a shopping complex.
He will only give you the job if you have proper public liability insurance and E&O insurance, but your part of the work will take only a few months in total and it's divided into short spurts of one or two weeks at a time spread out over half a year.
Even if your customer didn't insist, you certainly should have proper coverage to protect you while on the job.
But if this is the only contract you have for the period that he wants you, then you don't want to have to pay for a whole year, or even a shorter block of time if you can avoid it.
This is when temporary landscaper and groundskeeper insurance works for you.
You can take out cover for the days or weeks you're working onsite because short-term liability insurance keeps you covered over that specific timeframe or activity.
Another example – if you run a business as a landscaper for large weddings and similar events, you only need cover for the work period before the actual event, with a few weeks on either side to protect you during the set-up and take-down.
What you need is a policy that can be scheduled to start on a specific date and run for a nominated number of days.
The key feature of short-term insurance is that you purchase the cover for a specific and defined period – a date on the calendar, or a week starting on a specific date, or a month – for example for 30 days beginning on the specified date.
Insurance for "mornings only" or such is not available.
Temporary insurance coverage can provide you with all the usual protection from risk in the same way as regular annual cover.
So it's essential to find a policy that covers all of the risks that you are taking on when you start the work.
Every Groundskeeping and Landscaping business needs the basic elements of Public Liability Insurance, Professional Liability and Property Insurance.
What kind of insurance will my groundskeeping and landscaping business need?
Every business needs to add insurance against unforeseen and unplanned outcomes that are part of all business activities.
Working as a groundsman is a highly active and skilled job that involves working with special equipment, often working with raw power and subject to the elements.
The work you do is also done outside of your own premises and in other people's homes.
In such an environment, you are exposed to two specific risks:
There is a possibility that someone will be accidentally injured, injured, or even killed as a result of your work, and there is a possibility that the property or contents of the place where you work will be inadvertently damaged.
You need Public Liability insurance for these risks.
Read more about these, the needs, and the possible costs in the linked articles.
You need Professional Liability (sometimes  known as Error & Omission) insurance because you are not only responsible for accidents, but also for improper or substandard work from a customer's point of view.
The work that landscapers do is totally and immediately visible to people in their home environment so that clients can feel the results of whatever you are doing and react very quickly.
Sometimes a very nice client can turn into a very angry person in front of a judge and testify against you in court if there is any dispute about any aspect of the project.
It could be something as simple as an uncovered hole around the back, or it could be a technical complaint that the stones you disturbed in flower beds to feed watering cables have been disfigured.
Today's landscaping and gardening require highly specialized equipment, as well as investments in inventory, such as materials for fertilizing, new plants, ladders, scaffolding, and much more.
This can require thousands of dollars in investment and must be insured against theft, loss, fire and water damage, vandalism, and all other hazards to natural things.
Equipment insurance protects your investment.
You will always be travelling between your base, and customer sites, your equipment is heavy and clumsy so you probably have a truck or small truck.
Commercial vehicle insurance not only protects the vehicle itself, but also its contents in the event of theft, fire, or storm, and the driver in the event of an accident.
If your business employs one or more full-time, casual, or part-time employees or contractors, Workers Compensation insurance is required in most states.
If you sell the material used in the job, you should consider taking out product liability insurance to cover yourself in the event that the material is unsuitable.
If you run your business from a central location that has office equipment, computers, customer records, paint shops, and any other part of your business, you need commercial property insurance to cover the risk of fire and storm damage, theft by vandalism, etc.
How much is insurance for a landscaping business?
It is not possible to quote exactly, because the total will depend very much on the size of the business, the area where you work, your own claims history, and much more.
In general, though, most service providers, such as handymen, roofing contractors, solar panel installers, general contractors, fencing contractors, etc. take out a standard level of public liability cover, giving $1 million for any single claim, with a total of $2 million in a single year. This should cost around $60 to $80 per month.
As well, personal liability or E&O insurance cover of $25,000 per single claim and $50,000 total for one year should cover any small Groundskeeping and Landscaping business, with a cost of $35-$45 per month.
Workers compensation insurance is based primarily on your payroll, as it is calculated at a basic rate per $100 of the monthly pay of each covered worker, adjusted for the level of risk in your industry and the different states each have different basic rates.
FAQ
Is there any need for snow removal insurance?
There are no special provisions that we are aware of in standard policies requiring special snow removal insurance.
How much does it cost to insure a trailer for a month?
Generally, the hiring company will require that you take out insurance from them as part of the hiring agreement, and the cost is built into the agreement.
It's not possible to predict the level of the insurance, since it varies from company to company, and also will depend heavily on the size, make, and age of the trailer.