Insurance for Painters and Painting Contractors – policies and cost
Painting and decorating are two of the most important jobs that are needed in home, office, and commercial buildings.
The importance comes from the fact that the work that the painter does can be seen, felt and immediately leaves some immediate visual impressions.
Along with such importance comes a level of responsibility and risk, and so every good and reasonable professional painter should add insurance against unforeseen and unplanned outcomes that are part of all business activities.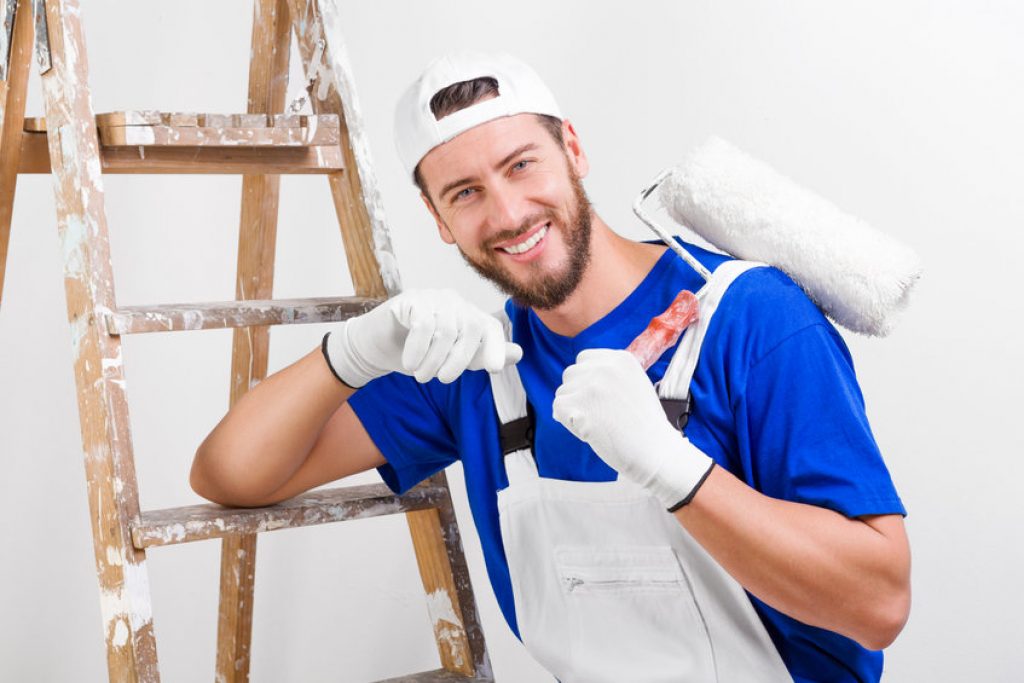 What kind of work does a painter do?
Painting and decorating is an ancient trade, with evidence going back thousands of years illustrating how much homeowners and business people value the outward appearance of their residences and premises.
In today's world, the trade of domestic and commercial painting has grown into a major sector of the economy.
You can judge its size by considering how much raw material is produced by the US painting and coatings industry. In 2019, nearly $150 billion was spent to buy paint.
Almost every drop of that paint had to be applied, sprayed, lacquered, airbrushed, or rollered onto a surface somewhere, and in most cases, a professional tradesman who specializes in painting did that work and was paid very well for it.
Painters and paint contractors rank in the top ten for levels of pay.
There are currently around a quarter of a million companies and contractors who are active in the painting and paint contracting sector, employing over 350,000 people.
Must a painter be licensed?
Nearly one half of the states in the US have set up licensing boards to ensure that people engaged in the trade are properly trained, and will perform their work safely and properly.
For example, in Arizona, tradesmen are not allowed to advertise as painters unless they have been registered by the Arizona Registrar of Contractors.
Some states, for example, Alabama, Alaska, Hawaii, Louisiana, Maryland, Minnesota, Mississippi, North Dakota, Oregon, South Carolina, and Tennessee issue licenses and also make it compulsory that the painter business carries at least the basic general liability insurance, with some extra coverage also specified in some states.
Some states also encourage painters and contractors to be bonded, which guarantees that the painter can cover any losses or damages if the project does not complete according to specification. Basically, bonding is a form of enforcing rules that painters and paint contractors either have good financial resources, or have adequate insurance.
Should a painter have insurance?
Instead of asking this question, you should ask "can I afford to not be insured?" Every kind of business activity has an amount of risk, and an experienced professional painter needs to recognize that there are special risks involved in the job they do. 
What kind of insurance does a painter need?
Painting is a high-activity and specialized job that involves working with special equipment, chemicals, often working at heights, in tight spaces and on temporary structures that could come crashing down in a second.
As well, the work you are doing is happening outside of your own domain, in other people's homes, offices and shops.
In such an environment, you are subject to two special kinds of risks.
There is the chance that someone may be accidentally hurt, injured or even killed as a result of what you are doing, and the chance that you may accidentally cause some unintended damage to the property or contents of the place where you are working.
For these risks, you need to have Public Liability insurance.
We will explain more about this, the levels and likely costs, in the following sections.
Apart from liability for accidents, you are also liable in case some work that you do is professionally inadequate or improper.
Like we said in the introduction, the work that painters do is very visible, and so customers can see the results, and react very quickly.
Sometimes, a very friendly customer can turn into a very angry litigant and witness in court if there is some argument about some aspect of the work.
It may be something as simple as the color or the texture, or technical like the allegation that the paint you were using has seeped into the surrounding walls and ruined some of the structure.
For situations like this, you need Professional Liability (also known as Error & Omission) insurance.
Commercial painting today needs highly specialized equipment, brushes and rollers, as well as investment in inventory, structural pieces like ladders, lighting.
This may require an investment of thousands of dollars, and it needs to be insured against theft, loss, damage from fire and water, vandalism, and all the other risks that physical things are subject to.
Equipment insurance will protect your investment.
Painters have to move their gear from place to place, and it's heavy and bulky, so you probably have either a van or a small truck.
Commercial vehicle insurance protects not just the vehicle itself, but the content in case of theft, damage from fire or storm, and the driver in case of an accident.
If your business employs one or more full-time, casual, part-time workers or contractors, in most states it is mandatory to have Workers Compensation insurance.
If you are selling the paint being used in the job, then you should consider taking out Product Liability Insurance to protect you in case the material is deficient in any way.
If you run your business from a central location, where office equipment, computers, customer records, paint stocks, and all the other paraphernalia of your business are stored, you should have Property Insurance to cover the risks from fire and storm damage, theft, vandalism, etc.
In the following paragraphs, we will explain a bit more about each of these insurance types.
General Liability Insurance
General liability insurance is a must-have type of insurance coverage for anyone involved in business operations that provide specialized labor and material services to their customers, such as:
General liability insurance is the primary type of insurance for any kind of business.
It covers you for financial losses caused to third-parties by bodily injury or property damage, as well as any related medical or legal expenses, and some companies offer cover for ancillary covers such as slander and libel.
Accidents can occur at any time during conducting your business activities.
There is a legal duty that you will conduct your work in a manner that doesn't endanger people in the immediate work area, as well as to protect the property itself against damages resulting from your work.
When you are working on some homeowner's property, in offices and shops, there is a risk of damaging the roof, floors, driveways, or any other area of the property.
As well, anyone in that location or any third-party anywhere near where you are working, could injure themselves on, or be hurt by, your equipment.
If the person injured, or the owner of the property damaged, claims that you were at fault, they may sue you for cost of replacement or repair, for any medical expenses, and for other things like "pain and distress".
Remember that people are becoming increasingly litigious and even the friendliest customer can turn into a very angry opponent in court.
General liability insurance for painters and paint contractors provides a high level of protection against any such legal outcome.
The policy takes over all aspects of the case, provides the necessary legal defense, and up to the limits you have selected, will cover 100% of the final judgment or settlement.
We talk more about the usual levels of insurance you should be thinking of a bit later in this article.
You can read more about general liability insurance in your state here.
Must I have excess liability insurance for my painting contractor company?
When the usual protection provided by ordinary general liability insurance is not enough for your own risk level, there is the possibility of an excess liability policy.
This may be especially the case if you are working on large projects or in particularly dangerous environments where some accident could cause extensive damage, injury or even loss of life.
To protect yourself from losing everything in expensive lawsuits, you can add excess liability to your insurance policy and get higher coverage.
You should talk to an experienced insurance agent, insurance broker or company agent to make sure that you are really in need of this exceptional cover.
Professional Liability Insurance
–
Error & Omission Insurance
Professional liability insurance, also known as Errors & Omissions, covers business from financial losses that are the result of allegations from your customers of some malpractice, errors, and negligence in the conduct of your business.
Apart from allegations that the work itself that you performed was not proper and professional, you can also be sued for ancillary costs.
One example could be where you had agreed to complete painting and decoration of a shopping complex by a specific date, but failed to meet that commitment.
If the center's owner had to delay opening of the shops by the date of the expected completion, you could be sued for the entire consequential cost, lost business, plus "reputational damage", which can become a claim for tens of thousands of dollars, plus tremendous legal fees both for your defense and for the other side if you end up losing the case.
Equipment Insurance
Since painters and painting contractors need specialized and costly equipment, it is very expensive to replace it in case of any damage, loss or theft.
In particular, the equipment has to be moved around extensively and sometimes stored in insecure and unsafe environments.
They may be subject to malicious damage, deliberate fire, theft, and other such deliberate acts, or to acts of nature like lightning strikes, hurricanes, earthquakes and other highly damaging natural events.
Unless you can afford to immediately replace such expensive gear quickly out of your own pocket, you should have full-level equipment insurance so that you can immediately buy any equipment needed to keep the business running.
Commercial Vehicle Insurance
Apart from tools, you will also need a vehicle to get to and from job sites.
You can use your personal vehicle at the start, but must beware of the possibility that your car insurance doesn't cover the loss of contents and damage if the vehicle is used for business purposes.

The only way to ensure that your vehicle is insured for both its own value, and the valuable contents, is by a proper commercial vehicle insurance package.
Beware – most car insurance companies do not cover the theft and damage to vehicles used for business purposes, so you definitely need to add on commercial coverage, or take out separate insurance.
Workers Compensation Insurance
In most states, this type of insurance is legally required for any business where the company employs one or more workers.
It's important to know that the term "employee" is not restricted to full-time workers, but includes part-timers, temporary, casual workers and subcontractors.
Workers compensation insurance protects such employees from any injuries or illnesses that are a result of work.
The insurance covers the employee's wages for the time while he is off-work sick or injured, as well as his medical expenses.
It can also protect the employer from lawsuits in connection with an unsafe work environment as long as he is following OSHA requirements.
To be eligible to get any payment from workers comp insurance, the injury or illness  must be directly related to work.
In the solar panel installation or contracting business, working at heights with dangerous equipment is a necessary part of the job.
This is why, to protect yourself and your employees, you must have workers' compensation insurance.
Notes: 
Some states are giving discounts for drug-free or alcohol-free work environments. 

In some states, there are monopolies on workers comp insurance and not all companies are allowed to sell it. Always talk to an insurance agent, broker, company representative or check on the internet to find out the regulations for the state where you are operating. 

If you run a multi-state business, you must cover the workers in each state separately in accordance with that state's rules.
Property Insurance
The property insurance portion of a painter's insurance package usually includes buildings owned or rented by the business, as well as additions and outdoor fixtures.
The policy will also cover any business-owned items and also any items owned by a third party but kept temporarily in the control of the business or business owner. 
This coverage helps protect buildings; equipment; tools; inventory; furniture and personal property for damage caused by uncontrolled events, typically fire, explosion, wind damage, vandalism, smoke damage, etc. 
Product liability insurance
If your painting operations manufacture, acts as a wholesale distributor or retails products directly to the public, or supplies this material to customers as part of a paint job, you need to be protected against financial loss as a result of a defective product that causes injury or bodily harm or is not up-to-standard in how it works.
How much is insurance for a painter?
Insurance cost always depends on the level of cover that you require, but can also be influenced by factors such as your claims history, the level of danger in your business, number of employees and many others.
The two standard policies almost all businesses take out are General Liability and Professional Liability.
General Liability policies for most small businesses covers you for up to $1 million for a single incident, with the total limit for one year at $2 million.
For general liability cover of $1 million / $2 million, you should expect to pay around $70 – $90 per month. In a few states, some companies offer rates as low as $60-$65 per month, so it's worthwhile doing a thorough internet search. 
E&O insurance of $25,000 / $50,000 should cost around $45-$50 per month.
Many insurance companies offer a package called the Business Owner's Policy.
Most business owner policies combine the two liability covers, plus commercial property insurance, for around $100 per month, but that depends on the value of the property and the insurance levels chosen.
Vehicle, property and product liability insurance costs will depend entirely on the value of whatever is being insured.
Workers compensation insurance is based primarily on your payroll, as it is calculated at a basic rate per $100 of monthly pay of each covered worker, adjusted for the level of risk in your industry and the different states each have different basic rates.
Final Thoughts
The business of painting and contracting offers great rewards and is an opportunity for small businesses to get going without the need for massive start-up costs, advertising or investment.
It's also a growing sector, and people will never stop needing these sorts of services, so it gives great long-term security.
But, it carries some special risks, and any professional painting business needs to properly insure all aspects of the business to keep ahead of the possible dangers.
Information by state: