Perfume Store Insurance – cost and types of policies
For retail perfume vendors, ensuring you have full insurance is one of the most important parts of business management.
A perfume store exposes its owners to many special risks that only the right insurance can cover. 
We will summarise below what most of the important risks are, and how to make sure that you have adequate and correct insurance.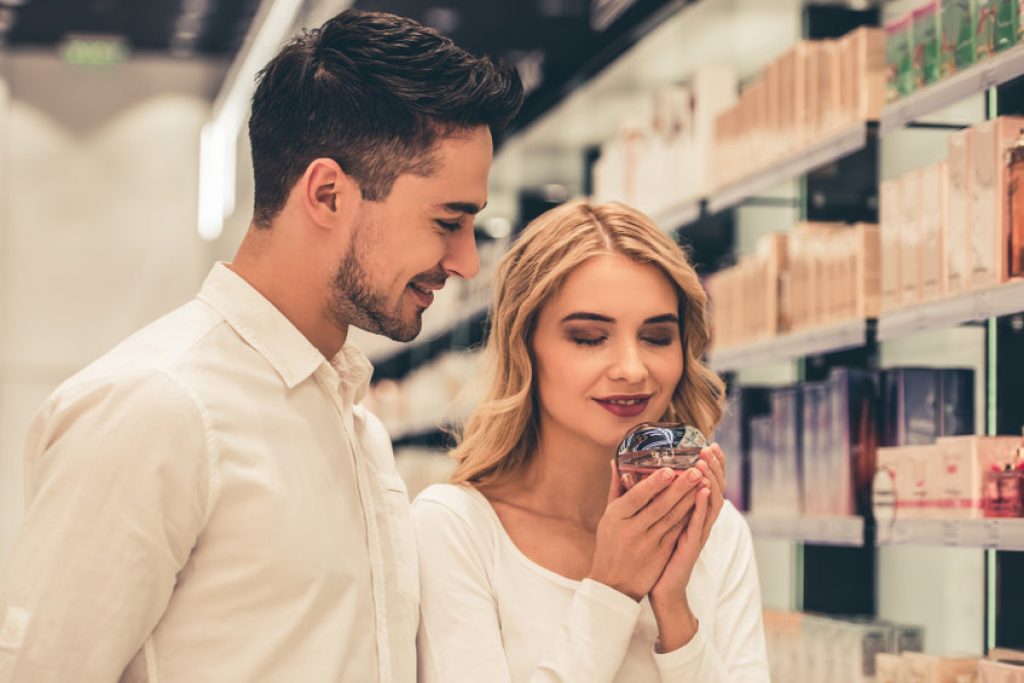 What are the special risks for retail perfume stores?
Evidence of trade in perfumes stretches all the way back to biblical times.
Perfume trade is probably one of the oldest continuous occupations in human history, dating back at the very least to Egyptian times nearly four thousand years ago. 
In modern times, retail perfume trade activity involves selling goods to customers through direct contact inside a physical store. 
Ranging from global chains all the way down to smaller specialist local stores, all play their role as retailers of high-value special products to sophisticated customers.
They may take different formats, like shopfronts on the street through to stores in large, high-traffic malls or franchises operating inside chain stores. 
The essential features of perfume retailing that distinguishes it from all other retailing businesses are the 'customer-facing' aspect of the business, and the high-value nature of the goods being stocked.
Perfume store insurance requirements
All perfume retailers share certain common characteristics that dictate the kinds of insurance that they need.
These characteristics are
High-volume public access to the store premises (potential customers come to browse before they buy)

Perfume is generally expensive and portable, making it highly vulnerable to theft

Investment in inventory is high, with a wide range of products

Customers demand personal service, making it necessary to have on-call staff throughout trading times
These special aspects of the trade create the following associated needs for proper insurance"
Liability insurance
Due to the high volume of public traffic into and around a perfume store, the need for general liability insurance is high.
The moment a customer steps into your store, you are responsible for their care and safety.
The liability in retail perfume trade comes in case of injury or damage to any third parties who have entered your store, for whatever purpose.
From the customer standing across from you at the counter, to one browsing through your displays, or even just a passer-by who steps over your entrance to ask a question, perfume retail businesses of all sizes need some form of general liability insurance.
General liability insurance is the most necessary and fundamental kind of cover for a perfume retailer dealing with the public.
Should you find yourself faced with a claim from a person that something happened to them in your store and they suffered some kind of injury or loss it safeguards your interests.
Claims like this can arise from any accident, like you up on a ladder to reach a high shelf and dropping a heavy box onto a customer passing underneath, or the customer accidentally falling because a leaking bottle had left a slippery puddle in an aisle.
General liability insurance covers you for a wide range of possible injuries and damages stemming from your business activities where it is possible that a person can claim some action was negligent and caused injury or damage. 
There is no limit for the amount you can be sued for – it's a matter for a jury to decide based on the evidence it hears.
So you need to protect yourself from potentially unlimited liability claims.
Liability for proper and professional services
Whatever perfumes you sell, or advice you give about them, you are running a risk that customers may claim that the goods did not meet your description of function, or that your advice was somehow incorrect.
Suppose a customer consulted with you for advice before making a choice, and the advice you gave was incorrect, then to cover yourself against any lawsuit claiming that the advice caused some damage or injury, you need Professional Liability insurance.
Suppose, however, that the perfume did not work as you described.
If the manufacturer doesn't have their own disclaimer of liability, then you may be held responsible for any loss sustained.
To cover yourself, you need Product Liability insurance.
Liability Insurance covers your legal costs regardless of fault
Defending yourself against a liability claim is not just a matter of not being found liable.
Throughout the process, which could run on for months or even years, you will need expensive legal representation, maybe for investigators to uncover all of the facts behind the claim, and much more.
Even if in the end you win the case, you could find yourself left with a substantial bill for all of these activities. 
Liability insurance will cover most if not all costs relating to any claim, regardless of the outcome.
Inventory insurance
Stock and inventory is one of the most essential parts of a perfume retail store, and may be the most important financial investment in the business.
Damage to inventory caused by fire, water damage, storm damage, roof damage etc can be severe. Another particular risk that is particularly important for a perfume store is robbery or theft, because of the high-value and very portable nature of stock.
Commercial Property insurance
A retail perfume store requires some premises with public access, either owned or rented.
You may have capital invested if you own the premises, and maybe even have a mortgage.
Rented premises will probably have a clause in the agreement that you are responsible and must carry insurance against damages of any kind. 
You should carry insurance cover up to the value of the premises and contents against natural occurrences like fire and storms, and against man-made damages like theft and vandalism.
This coverage helps protect the value of your buildings; furniture and personal property for damage caused by hazards, like a fire, water damage from floods or storms, roof damage from wind, lightning or hail storms, and all such natural occurrences. 
As well, acts like vandalism that damage the store or break glass frontages may need to be added as special clauses.
In areas of high risk, additional coverage may need to be taken for earthquakes and hurricanes or tornadoes.
Most commercial insurance policies also cover the business content of the store, like computers, shopfittings, furniture, and equipment, but it's important to remember that for a retail perfume store, this policy does not cover inventory, for which specific inventory cover is necessary.
Business Owners Policy (BOP)
Most insurance companies offer a combination of commercial property and general liability insurance in a single package.
As well, you can negotiate some extra coverage with your company agent or broker.
These include continuity of business insurance, data loss or theft and employee theft or misappropriation.
Business interruption insurance is important to protect you in the event of a fire or storm causing a total shut-down temporarily.
Until all the repair is complete, you are still responsible for your mortgage or rental payment, for the payroll and for all the other "fixed" expenses.
This means you need to replace lost income so that you can meet such ongoing expenses.
Be aware, though, that the consequences of 'catastrophes' such as floods or earthquakes, are not typically covered in a business interruption policy.
The following are usually covered under a business interruption insurance policy:
based on recent history, profits that would have been earned, 

costs and other operating expenses still being incurred

in the event you need to move to and operate from a temporary location, associated moving and setup expenses.
Business income insurance can also offer cover for what are termed "ancillary losses", such as when your suppliers cannot deliver stock to you because of an interruption to access.
In the same way, if delivery of your products or services to customers is interrupted.
Cyber and data security
In the modern world, digital information is a key to success.
You should fully protect all of the information regarding your financial transactions, as well as your customer records, and anything else that could become a target for cyber theft.
Cyber insurance covers damage to or theft of all data stored in your perfume store or on your business phone and home computer.
Commercial vehicle insurance
If part of your perfume service is delivering goods to customers, like for example when you offer your products on an on-line website, then you should make sure that you have proper vehicle insurance.
Private auto insurance is not the same as commercial vehicle insurance and if you use your own auto for deliveries on behalf of the business then in all probability, you will be breaching the terms of your private auto insurance policy, since it almost always excludes commercial activity.
If you are making use of third-party delivery service providers, then you should make sure that they have their own insurance that covers your risks.
The moment that goods move out of your premises, your own business insurance cover stops protecting you in case of loss and all the other dangers.
Workers Compensation Insurance
Worker's compensation insurance is required in most states if your perfume store has more than the designated number of employees, regardless of whether they are full time, part-time or casual.
Worker's compensation insurance covers your business against any claims in case an employee suffers any injury or becomes sick directly as a result of work.
Most states treat any contractor or subcontractor, or a temporary staff member, exactly the same way as an employee if they are injured while working for your company.
What does perfume store insurance cost?
Keep in mind that insurance companies always take care to cover the level of risk that they can expect.
Perfume stores may have higher levels of risks for robbery depending on location.
For example, a store on the main street is exposed to more risk of customer injury, robbery and storm damage than to one located in a mall. 
While it's not possible to give exact costs, since it depends very much on the size and the location of the store, here are some general guidelines.
The list below is a rough estimate of average annual premiums for the main types of insurance small businesses will have to pay and could change at any time.
| | |
| --- | --- |
| Insurance Type | Price Range |
| Product Liability insurance | $400-$750 |
| Commercial vehicle insurance | $1750-$3350 |
| Commercial Property insurance | $950-$2850 |
| General Liability insurance | $340-$9350 |
How do you determine the level of coverage you need?
You have to decide the coverage limit you need.
A typical example for most perfume stores for public liability insurance is one million dollars single occurrence cover, with an annual aggregate of $2 million.
If more cover is required, these limits can be raised, and the premium is adjusted accordingly.
Commercial property, inventory and vehicle insurance levels are all based on specific details of your own business operations.
Your coverage needs may not be the same as other businesses, so it is good to speak to insurance agents and brokers, or search on the internet for the best advice.