Glaziers Insurance and Window Installers Insurance
Glazier insurance and Glass Installer insurance are both essential because their services are often needed by people and businesses to do urgent and vital work.
Taking out proper levels of insurance against risks is vital.
One of the basic services they provide is to handle unexpected and unforeseen events that can develop quickly.
Working in such a high-pressure environment means that some unexpected developments can end up costing a lot of money if you haven't already prepared for that possibility by arranging your insurance in advance.
We are here to try and help you understand all the different aspects, appreciate just how important it is, and finally, find the right combinations of all the options out there waiting for your choice.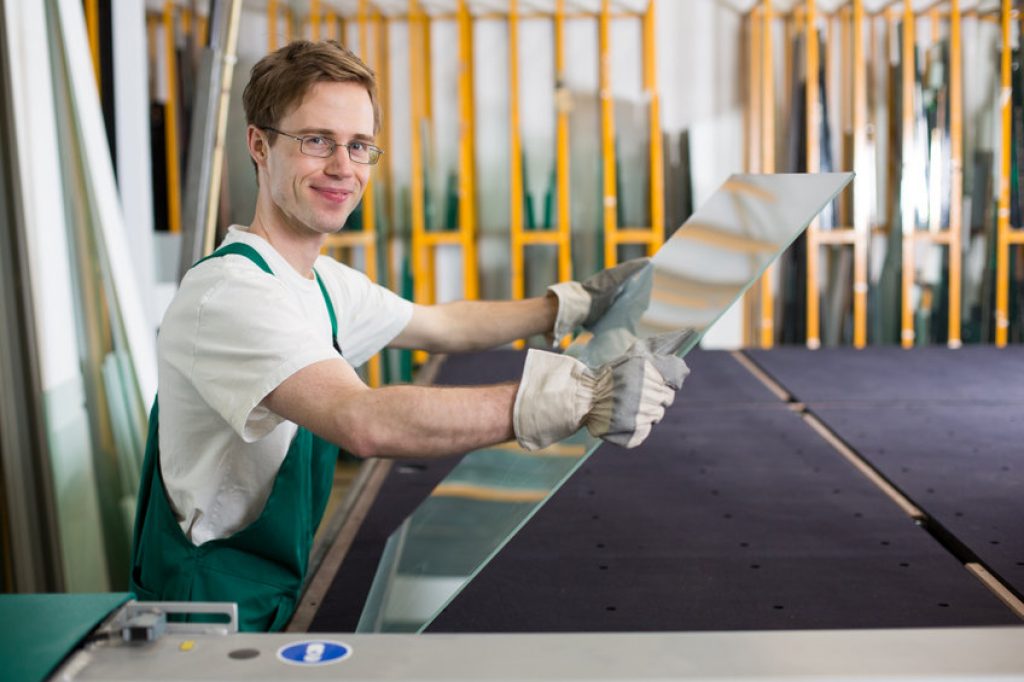 Why working as a glazier has special rewards, along with special risks
There's always demand for services from glaziers and glass installers.
In the first place, houses are being built at ever-increasing rates, and they are getting bigger and have more exposure that needs windows.
The trend has been toward increasing the ratio of glass to walls.
As well, the global warming trends are making people want specialized services like roof panes to let in light but reduce heat, and films to filter out glare and warmth.
The next point is that glass breaks, and when it does, it needs to be replaced by quick-smart Glaziers.
On the other hand, glaziers have to work with heavy panes of glass, in exposed areas, often outdoors and up in the air.
It's sometimes physically demanding work and glaziers frequently suffer high rates of job-related injury – from cuts and from falls from heights.
What insurance does a small business or self-employed glass installer need?
In general terms, businesses need insurance as protection from unexpected events.
A well-run business has budgets, forecasts, and projections.
As long as everything is going according to these carefully laid plans, then nothing can happen to prevent you from reaching your targets for sales, costs, growth, and profit.
But – there's always some "but".
Accidents happen, to you, to your workers, to your customers, on-site, on the way to work, or on the way home.
Something entirely outside your control can take over, like a natural disaster, an earthquake, or a massive fire in the buildings around you.
And these are things that you could really foresee, even if the chance of them happening is minute, and you decided that your risk is not high enough to justify taking out insurance.
Glass installation is a high-activity and specialized job that involves working with special equipment, chemicals, often working at heights, in tight spaces, and on temporary structures that could come crashing down in a second.
As well, the work you are doing is happening outside of your own domain, in other people's homes, offices and shops.
In such an environment, you are subject to two special kinds of risks.
There is the chance that someone may be accidentally hurt, injured, or even killed as a result of what you are doing, and the chance that you may accidentally cause some unintended damage to the property or contents of the place where you are working.
For these risks, you need to have Public Liability insurance.
We will explain more about this, the levels and likely costs, in the following sections.
Working as a glazier is a high-activity and specialized job that's involved with special equipment, fragile components, often working at heights, in tight spaces, and on temporary structures that could come crashing down in a second.
As well, the work you are doing is happening outside of your own domain, in other people's homes, offices and shops.
In such an environment, you are subject to two special kinds of risks.
There is the chance that someone may be accidentally hurt, injured, or even killed as a result of what you are doing, and the chance that you may accidentally cause some unintended damage to the property or contents of the place where you are working.
For these risks, you need to have Public Liability insurance.
We will explain more about this, the levels and likely costs, in the following sections.
A self-employed handyman like a glazier has a few other special risks that relate to the dependence that he or she has on producing some income each month.
If you can't work, you can't earn, but the bills will keep piling up.
In some states, glaziers can join unions that provide protection for members who are sick, injured, or unemployed, but this can be expensive, in some cases as much as $300 per month.
What kind of protection does a glazier need for quality of work?
When you undertake work for a customer, there is an implied agreement that you know exactly what the customer wants, and have the tools, knowledge, and capability to complete the job properly, and on time.
A customer can sue you for any damages he or she claims as a direct result of your work as a glazier did, either in commission or in omission.
It is usually called Errors & Omissions Insurance (E&O), but sometimes is called either Public Liability insurance or Public Indemnity insurance.
Essentially, they are exactly the same thing.
Public Liability Insurance/ General Liability Insurance
General liability insurance is the primary type of insurance for any kind of business.
But even more so it is a must-have type of insurance coverage for anyone involved in business operations that provide specialized labor and material services to their customers, such as
It covers you for financial losses caused to third parties by bodily injury or property damage, as well as any related medical or legal expenses, and some companies offer cover for ancillary covers such as slander and libel.
Accidents can occur at any time during conducting your business activities.
There is a legal duty that you will conduct your work in a manner that doesn't endanger people in the immediate work area, as well as to protect the property itself against damages resulting from your work.
When you are working on some homeowner's property, in offices and shops, there is a risk of damaging the roof, floors, driveways, or any other area of the property.
Why does any business need Public Liability Insurance?
The law says that you as a business owner have a primary responsibility to exercise "duty of care" to prevent any injury or damage to a third party.
Let us explain what "duty of care" means with a real-life example.
Suppose you are installing the windows and door panes in an area that is open to the public to inspect.
If you accidentally drop a heavy pane that smashes in front of a viewer who steps into the area, trips and falls, and sustains multiple cuts and bruises, you cannot plead in defense that you didn't directly cause harm, because the viewer should have bypassed the area.
This is what the public liability component of glazier's insurance will protect you from.
It gives you liability insurance cover specifically designed to cater to the sort of accidental injuries and damages that can happen while you are engaged in your everyday business activity.
Bodily injury and property damage liability are probably the two most essential parts of insurance.
Suppose you have business visitors in the course of running your business.
In that case, it will cover injuries to anyone, and to their property while it is in your care.
Why you need public liability insurance
You need public liability insurance if you own a business that operates outside of your own premises open to members of the public, customers or clients may have access.
people in their own homes or business premises where you work.
Public liability insurance helps protect you and your business from claims if there's some accidental bodily injury or property damage to some third party.
'Third party' means someone who is not directly associated with you (such as a family member) or your business (such as an employee).
In the case of property, it means something that does not belong to you but is temporarily under your control.
Basically, the need for public liability is quite straightforward.
If there is any chance a customer, visitor, or passer-by could be injured or have their property damaged and could then claim that this happened due to your work, you need public liability insurance.
Professional Indemnity Insurance/ E&O Insurance
Also known as Professional Liability Insurance, and sometimes as Errors & Omissions insurance, it covers the financial losses of glaziers resulting from claims of abuse by their customers, mistakes, and negligence in doing their jobs.
Professional liability insurance covers business from financial losses that are the result of allegations from your customers of some malpractice, errors, and negligence in the conduct of your business.
Apart from allegations that the work itself that you performed was not proper and professional, you can also be sued for ancillary costs.
One example could be where you had agreed to complete all glass work of a shopping complex by a specific date, but failed to meet that commitment.
If the center's owner had to delay opening of the shops by the date of the expected completion, you could be sued for the entire consequential cost, lost business, plus "reputational  damage", which can become a claim for tens of thousands of dollars, plus tremendous legal fees both for your defense and for the other side if you end up losing the case.
Professional Indemnity Insurance applies to many occupations engaged like you in the building sector, such as plumbers, solar panel installers, electrical contractors, consultants, engineers, architects, real estate agents, and surveyors, to name a few.
In many of these, it is a legal requirement to hold a Professional Indemnity policy in order to render your services.
Business Insurance for Glaziers
Running any business involves many different risks, some of which are unique to the kind of activity and others all businesses have to cope with.
There are comprehensive insurance packages for business owners, that in addition to public liability insurance give you coverage for the commercial activity side of your glass installation business.
Business interruption insurance
This is also sometimes called business income coverage, and it provides coverage for the outcomes of events beyond your control, such as fire, wind, hail, vandalism that cause direct physical loss or damage to your premises, inventory, or equipment.
The following are typically covered under a business interruption insurance policy:
Profits that would have been earned, based on recent history
Expenses and costs being incurred by the business
Extra expenses for moving to and operating from a temporary location
The cost of training operators on new machinery
Expenses are needed to continue operation while the property is being repaired.
Cyber Liability Insurance
Suppose you have a website for your business or you store sensitive customer information on your computers or laptops.
In that case, the costs of repairing the damage and the legal costs of a data breach can impact significantly on your business, plus damage your reputation.
To protect yourself in this case you need Cyber Liability Insurance.
Tool Insurance
Since glass contractors need specialized and costly equipment, it is very expensive to replace it in case of any damage, loss, or theft.
In particular, the equipment has to be moved around extensively and sometimes stored in insecure and unsafe environments.
They may be subject to malicious damage, deliberate fire, theft, and other such deliberate acts, or to acts of nature like lightning strikes, hurricanes, earthquakes, and other highly damaging natural events.
Unless you can afford to immediately replace such expensive gear quickly out of your own pocket, you should have full-level equipment insurance so that you can immediately buy any equipment needed to keep the business running.
And given that the typical sorts of tools glaziers need aren't cheap, where even a powerful drill with diamond bits can cost more than $500, it may be hard to replace immediately in the event of theft.
Tool Insurance can be added to your commercial policy or taken out separately.
It pays to replace your equipment in case of damage or theft.
There are a multitude of different tools that can be insured including hired equipment, and personal tools including hand tools and power tools.
Commercial vehicle insurance
Apart from tools, you will also probably be using a vehicle to get to and from job sites.
You can use your personal vehicle initially, but must beware of the possibility that your car insurance doesn't cover the loss of contents and damage if the vehicle is used for business purposes.
Beware – most car insurance companies do not cover the theft and damage to private vehicles used for business purposes, which is another big reason you absolutely need commercial vehicle insurance.
The right way to ensure that your vehicle is insured for both its own value, and the valuable contents, is by taking out a proper commercial vehicle insurance package.
Commercial vehicle insurance covers the value of any vehicle in case of malicious damage, fire, or theft.
As well, in case of any accident, the vehicle itself, the content and any legal bills, medical expenses, and property damage is covered if the company's vehicle is involved in an accident.
Most states, other than Virginia and New Hampshire, require this type of insurance.
Most insurance companies will extend the cover to vehicles owned by employees used in work activities, or leased/rented by the company.
Product Liability insurance
Suppose your business also acts as the supplier of the glass you are installing.
In that case, you need to be protected against financial loss due to a defective product that results in a complaint and the requirement to replace the defective material plus the possibility of claims for damages.
Workers Compensation Insurance
In most states, this type of insurance is legally required for any business where the company employs one or more workers.
It's important to know that the term "employee" is not restricted to full-time workers, but includes part-timers, temporary, casual workers, and subcontractors.
Workers' compensation insurance protects such employees from any injuries or illnesses that are a result of work.
The insurance covers the employee's wages for the time while he is off work sick or injured, as well as his medical expenses.
It can also protect the employer from lawsuits in connection with an unsafe work environment as long as he is following OSHA requirements.
To be eligible to get any payment from workers comp insurance, the injury or illness must be directly related to work.
In the glass installation business, working at heights with dangerous equipment is a necessary part of the job.
This is why, to protect yourself and your employees, you must have workers' compensation insurance.
Notes:
In some states, there are monopolies on workers comp insurance and not all companies are allowed to sell it.
Always talk to an insurance agent, broker, company representative or check on the internet to find out the regulations for the state where you are operating.
If you run a multi-state business, you must cover the workers in each state separately in accordance with that state's rules.
Commercial property insurance
For larger businesses with a significant amount of property and physical assets, this coverage protects you against loss and damage of assets caused by events such as fire, smoke, wind and hail storms, or riots and vandalism.
Where can I buy insurance for my glazing business?
You can find the right cover by enquiring from qualified sources on which companies offer the best terms and conditions that suit your specific circumstances.
There are hundreds of insurance companies, agents, and brokers who are keen to get your business.
While it's easy to get offers, make sure you are not just jumping at the first, or the cheapest, offer.
Talk to your business advisors, your bank, colleagues, or any professional associations in your community.
We are sure you'll find the right insurance package at the best possible price.
What levels of insurance should I take?
There are several different factors that should guide you in setting the required levels, and the figures we give here are just general guidelines taken from typical solar panel contractors and installation businesses.
The most important factors are:
Size of your business
Number of employees
If you are working in especially high buildings or high-risk environments (from storms, wind, snow etc)
General level of worker skills and training
For general liability insurances, most businesses choose $1 million single incident cover, with a total of $2 million for the whole year.
See the next section for expected costs.
Professional liability / E&O covers usually taken are $25,000 for a single incident, with total claims of $50,000 for the whole year.
A claims deduction of $500 is usually required by the insurance company, so that they do not get an excessive amount of small "nuisance" claims.
Equipment insurance, Commercial vehicle, and Commercial property insurance policies costs depend completely on the declared value of the policy, the level of claim deduction you are willing to accept, and your claims history.
Workers compensation insurance is based primarily on your payroll, as it is calculated at a basic rate per $100 of monthly pay of each covered worker, adjusted for the level of risk in your industry and the different states each have different basic rates.
How much does glazier's insurance cost?
The cost of glass installer's insurance varies across states and depends on the level of coverage you opt for, as well as the components of the package.
For starters, the basics of public liability and E&O should cost around $90 – $150 per month for a small business.
The other parts of your policies depend heavily on how much cover you need.
So for example, if you've got a lot of money invested in stock and equipment, then property and equipment cover will be more than if you've just got a modest toolkit.
Consult with a reputable broker or agent that can find you the best policies that match your needs.
Brokers don't cost you anything – they receive commissions from insurance companies when they sell policies, so make use of their expertise and time to find what's best for you.
Shop around on the internet, where prices and benefits can vary significantly.
Compare benefits, rates, and terms between the companies as well as from agents.
Final thoughts
Being a glazier involves high risks for your employees, third parties, and property damage.
That's why it is so important to be protected.
Since glass installers are working directly on the property of a client, the damage that might occur can cost thousands.
In order to avoid having to pay out of your own pocket in case of accidents, or settlements and judgments from lawsuits, the best is to have liability insurance coverage.