Audio Visual Technician Insurance
In today's digital era, Audio Visual Technicians have become indispensable in multiple sectors—education, entertainment, corporate, and even retail. With great importance comes a set of complex challenges and responsibilities. And, of course, risks.
No professional should underestimate the value of comprehensive Audio Visual Technician Insurance coverage, especially those who work with costly technology and equipment, or who interact with various stakeholders, from clients to employees.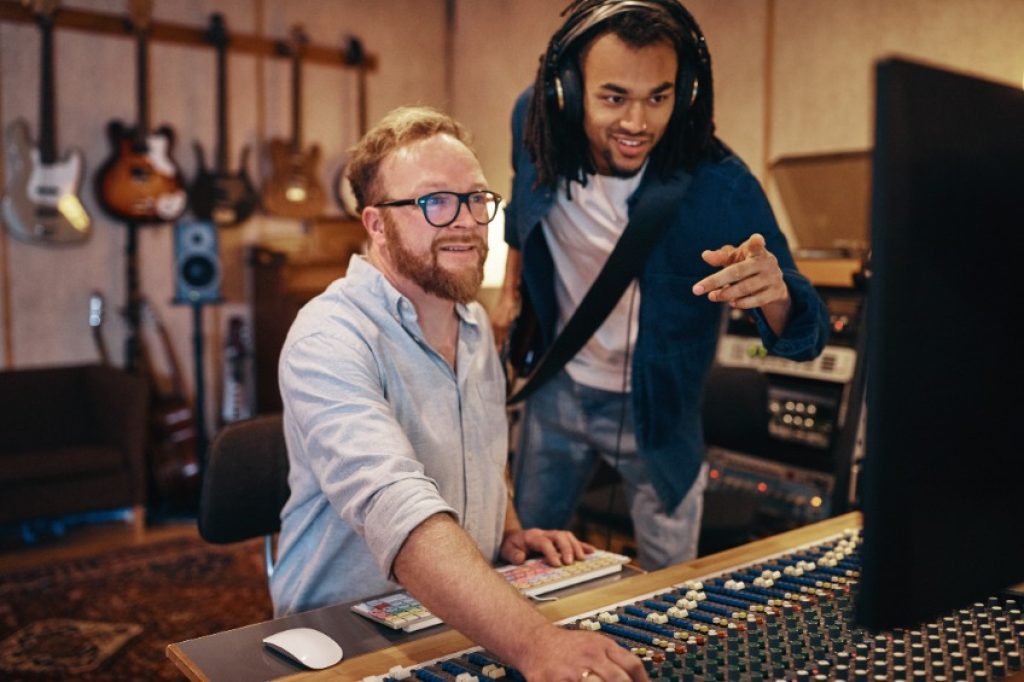 In this article, we will delve into the various aspects of Audio Visual Technician Insurance: the nature of the business, the risks involved, and the types of insurances that are not just important but often necessary for safeguarding the business and personal interests of an audio-visual technician.
Audio Visual Technician Business Description
An Audio Visual Technician, or AV Technician, specializes in operating and maintaining equipment used for multimedia productions such as corporate events, concerts, meetings, video productions, and classrooms. This involves setting up audio, video, lighting, and other forms of visual display and sound equipment.
The role of an AV Technician has evolved over the years and now involves a high degree of technical expertise, including knowledge of complex electronic systems, software programs, and even IT skills. This makes it a business that can be highly lucrative but is also continually adapting to new technological advancements.
Risks Faced by Audio Visual Technicians: An In-Depth Look
The world of an Audio Visual Technician is filled with both creative and technical challenges. While the rewards of a successful event can be satisfying, the associated risks can also be incredibly high-stakes. To give you a better understanding, let's delve deeper into each risk category, supplemented with real-world examples.
Equipment Damage or Loss
Example: Imagine setting up an intricate lighting system for a high-profile corporate event. Despite all precautions, a sudden power surge causes several expensive LED lights to burn out.
Elaboration: High-quality audio-visual equipment, such as sound mixers, projectors, and lighting rigs, can cost thousands of dollars. Damage could occur through electrical issues, mishandling, or even theft. The loss of a single piece of crucial equipment can not only cripple an event but also incur significant financial burden for the replacement or repair of the item.
Professional Errors
Example: You're responsible for broadcasting a live feed of a wedding ceremony. Due to a setup mistake, the video feed experiences a lag, causing emotional moments to be missed.
Elaboration: As the technician, you're responsible for ensuring the seamless integration of sound, visuals, and lighting. Simple human errors like incorrect cable connections, or software glitches, could result in the failure of the entire setup. These professional errors can lead to substantial reputational damage and the likelihood of legal action for ruining what could be a significant event for your clients.
Third-party Liability
Example: While setting up the stage for a concert, a speaker system falls off its stand and injures a passerby.
Elaboration: In the course of your work, you often find yourself in busy environments filled with clients, guests, or even bystanders. Accidents can happen, and if your equipment or setup causes injury to any third-party, you could be liable for medical expenses, legal fees, and other associated costs.
Employee Accidents
Example: An employee climbs a ladder to adjust an overhead projector and falls, breaking his arm in the process.
Elaboration: The audio-visual industry often requires technicians to engage in physically demanding work—lifting heavy equipment, climbing ladders, or navigating through complex wiring. Employees are thus at risk for injuries like falls, electrical shocks, or muscle strains. Such accidents not only halt work but can also lead to workers' compensation claims, which are both financially and emotionally taxing for the business.
Intellectual Property Risks
Example: You play a popular copyrighted song during a public event without acquiring the necessary licenses.
Elaboration: Given that AV Technicians often deal with multimedia content, the risk of infringing upon intellectual property rights is high. Playing copyrighted music, videos, or using patented technology without permission can result in legal battles that can cost thousands of dollars in legal fees and settlements, not to mention damage to your professional reputation.
Conclusion on Risks
Understanding the risks associated with being an Audio Visual Technician is the first step toward mitigating them. The next step involves acquiring the right types of insurance coverages to protect yourself from the financial ramifications that these risks can bring. While you can't predict every mishap, being well-prepared and well-protected can give you the peace of mind to focus on delivering the best possible service to your clients.
Types of Audio Visual Technician Insurance and Their Relevance
The business of an Audio Visual Technician is as multifaceted as it is intricate, requiring a blend of artistic flair and technical prowess. With such a unique set of skills and responsibilities comes a diverse range of risks that need to be covered by equally diverse insurance policies. Below, we elaborate more on each type of insurance that is essential for anyone operating in this field.
General Liability Insurance
Relevance: High
Detailed Explanation:
General Liability Insurance serves as the first line of defense against many common claims that businesses face. For an AV Technician, this can include protection against claims of bodily injury or property damage resulting from your operations, whether that's setting up audio equipment for a conference or handling light fixtures for a theater production.
Real-world Scenario:
Let's say you are setting up a PA system for an outdoor event, and one of the speakers falls over onto a guest's car, causing significant damage. General liability insurance would cover the costs associated with this property damage.
Why It's Crucial for AV Technicians:
Because you're often working at third-party locations, the risk of causing damage to someone else's property or causing accidental injury to someone is elevated. Without general liability insurance, you could be looking at significant out-of-pocket costs.
Contractors' E&O (Professional Liability Insurance)
Relevance: High
Detailed Explanation:
Errors & Omissions (E&O), or Professional Liability Insurance, is tailored to protect you against claims that arise due to professional advice or services provided. It covers legal fees and settlements when a client sues for unsatisfactory work or a mistake made during service provision.
Real-world Scenario:
Imagine you're hired to provide the audiovisual services for a corporate webcast, but due to a mistake in how you configured the streaming software, the video feed is garbled and practically unusable. Your client could sue you for professional negligence.
Why It's Crucial for AV Technicians:
You're not just setting up equipment; you're providing a specialized service. Any mistake or oversight can ruin your client's event and lead to substantial claims against you. E&O insurance can protect you in such situations.
Commercial Auto Insurance
Relevance: Moderate to High
Detailed Explanation:
Commercial Auto Insurance is crucial if your business owns, rents, or leases vehicles. This policy covers damages and medical costs in case of an accident involving your business vehicle.
Real-world Scenario:
Suppose you're driving a van loaded with AV equipment to a client's location and get into a fender-bender that damages both vehicles. Commercial auto insurance would cover the repair costs and any medical expenses if injuries were involved.
Why It's Crucial for AV Technicians:
Transporting bulky, expensive equipment is often a routine part of the job. Even a minor accident can lead to damaged equipment and a third-party claim, making commercial auto insurance a necessity.
Workers' Compensation
Relevance: High
Detailed Explanation:
Workers' compensation provides wage replacement and medical benefits to employees who get injured while performing their job. This is obligatory in most states if you have employees.
Real-world Scenario:
An employee helping set up for an event trips over a wire and fractures his wrist. Workers' compensation would cover his medical expenses and potentially some of his lost wages.
Why It's Crucial for AV Technicians:
The nature of the work involves physical labor, electrical connections, and sometimes precarious settings like ladders or scaffolds. Workers' compensation insurance protects you from the financial liabilities and litigation that could arise from employee accidents.
Tools and Equipment Insurance
Relevance: Very High
Detailed Explanation:
This specialized insurance policy covers the cost to repair or replace tools and equipment that are stolen, lost, or damaged.
Real-world Scenario:
You've stored your AV equipment in a locked storage unit. Overnight, the unit is broken into, and your equipment is stolen. Tools and equipment insurance would cover the loss, enabling you to replace the expensive items.
Why It's Crucial for AV Technicians:
The lifeblood of your operation is your equipment. It's not just about the expense of the items; it's also about the time and opportunity cost lost when your tools are unavailable. With tools and equipment insurance, you can have peace of mind that you won't be left stranded without your essential gear.
Conclusion for Audio Visual Technician Insurance
Insurance isn't merely a box to check off; it's a strategic move to protect your livelihood. Given the specific risks and requirements of an Audio Visual Technician's job, the role demands a well-considered insurance portfolio. From general liability to specialized equipment insurance, each policy serves as a safety net, providing you with financial and operational security.
And in a field where both reputation and quality service are crucial, being adequately insured is not just advisable; it's imperative.
Relevant article: Sound engineer insurance