Tennis Coach Insurance – cost and types of policies
Due to the very nature of tennis coaching and instruction, accidents and unexpected outcomes can happen.
There's a training plan that doesn't deliver the expected results.
There's a client tripping over a tennis bag that has been left around or there's the theft of a laptop used to record sessions.
Any one of these could see a claim brought against you and have a severe financial impact on your business.
Specialist cover for tennis coaches and trainers provides cover against these possibilities and many others. Make sure that if something unexpected happens in the course of your work, you are covered.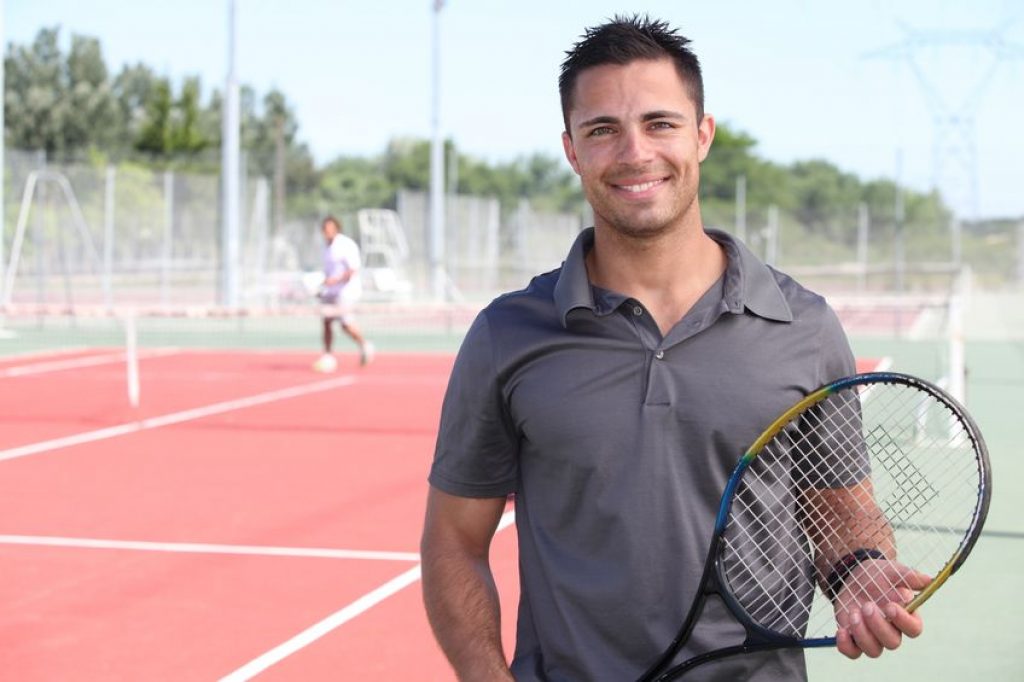 What type of insurance does a tennis instructor need?
At the very basics, you should be considering building your tennis coaching insurance with these covers.
Public liability and professional indemnity insurance
Public liability and professional indemnity insurance offer comprehensive protection against the cost of defending your tennis coaching business.
In addition, tennis coach insurance covers the cost of defending yourself if someone is injured or their property damaged, when they are being coached by you.
Some examples of claims that you could face:
You instruct a client to perform a strenuous exercise, but she falls while doing it and injures herself. She could take legal action against you, alleging you failed to explain the move adequately.
You produce a personalized plan, but your client doesn't achieve the targets you promised. Alleging your training was inadequate, they take legal action against you.
A client trips over a ball bag that has been left lying around and injures her hip. She's unable to play and makes a claim against you for compensation.
This cover is often demanded by gyms, halls and other rented premises before they will allow you to begin your training sessions.
It is generally considered a vital cover for fitness coaching professionals of all descriptions. Limits typically range from $1m for a single trainer to $5m for a larger business.
Public liability insurance
Public liability insurance offers comprehensive protection against the cost of defending your coaching business against allegations that someone (not you, your employees or members of your family) suffered some injury while inside your training facility.
To understand the burden that the law places on you as a business, you must consider what is called your 'duty of care.'
The law says that you have a primary responsibility when conducting business with any other person or company to prevent any injury or damage to a third party.
Let us explain what 'duty of care' means to a tennis instructor with a few real-life examples.
Suppose you are running a workshop session with some famous players, which is on an open court visible to casual spectators.
A wild forehand sends the ball whizzing over the fence, and a small child retrieves it and comes running onto the court to hand it over to the tennis star, who doesn't see the kid running up and takes a backhand swipe at balls being fired by the automatic ball tosser.
Wham, and the child is struck on the face by your client's racket, and loses the sight of his eye.
The child's parents claim the player was careless, and he claims you weren't supposed to let the public anywhere near your court.
You are now involved in a three-way legal battle, where the costs of defense could easily double or triple the total amount being sued for.
You cannot plead in defense that you didn't invite the child. Nor can you plead that you hadn't seen that our client was still playing.
Your 'duty of care' makes it your direct responsibility to look out for the safety of people who have come into your legal domain. You could end up having to pay out thousands of dollars in damages and legal costs.
Or in another example, if your client comes to your private tennis court with a bundle of brand new and expensive racquets, and when he is taking an off-court break after a tough session, someone sneaks in behind your back while you're talking on the phone and nicks the lot.
That's a few thousand dollars that your customer can say was under your care.
This is what public liability insurance will protect you from. It gives you protection specifically designed to cater to the sort of accidental injuries and damages that can happen while you are engaged in your normal business activity.
Bodily injury and property damage liability are probably the most crucial part of what you get from Public Liability insurance.
Suppose you have interactions with people in the course of running your business. In that case, it will cover injuries to anyone, and to their property while it is in your care.
There are three types of risks that are typically covered by a public liability policy:
Compensatory damages: damage or losses clients claim to have suffered as a result of your tennis instruction. They may also be able to claim for future losses that they might suffer resulting from an injury.
General damages: indirect losses suffered by the injured party, such as "pain and suffering" or "mental anguish".
Legal costs associated with your defense of a lawsuit related to the claim.
Public liability insurance helps protect you and your business from claims in case there's some accidental bodily injury or property damage to some third party.
'Third party' means some person who is not directly associated with you (such as a family member) or your business (such as an employee).
In the case of property, it means something that does not belong to you but is temporarily under your control.
Basically, the need for public liability is relatively straightforward.
If there is any chance a customer, visitor or passer-by could be injured or have their property damaged and could then claim that this happened due to your work, you need public liability insurance.
What liability does a Public Liability insurance cover?
Bodily injury: it covers expenses if someone is injured or dies. A typical example is if someone trips and falls when stepping over a broken step coming onto your court. They can sue for medical expenses, and even for long-term effects if serious injury was caused.
Property damage: it covers damage to a third party's property. Let's say you are training a group of amateur players on a hired court.
If a few of them go into the clubhouse without your knowledge, and break some glass trophy cabinets, your policy would help cover the cost of repairing the cabinets, or paying out the value claimed by the customer for anything destroyed.
Legal expenses: covers the cost of an attorney who represents your business in a lawsuit brought by anyone claiming some form of accidental damage or injury in the course of your work.
Make sure that your public liability policy offers these fundamental covers:
Damage to third-party property
The most common claims are made for property damage.  This can be damage caused by you, your employees or anyone under your supervision.
Trips, slips and falls
This is the nightmare scenario for anyone in this line of business. Players are especially subject to slipping, tripping or falling resulting in an injury.
For example, your court was earlier soaked by a rainstorm and hasn't yet dried thoroughly. If anyone slips and breaks a leg, they can make a claim. The court may well find you were liable and you'll find yourself subject to an expensive settlement.
Disrepair
You have 'a duty of care' so that training facilities are kept as a safe environment for your customers and the general public.
Suppose someone visiting your court or changerooms sustains an injury caused by disrepair, like a loose floorboard, a chipped tile or broken step. In that case, you could be held liable. The same as for a fall, you could be dragged into court, and face unknown penalties and legal costs.
Health hazard
Suppose a member of the public or a customer is injured by something lying around or projecting into the open space, like a sliver of glass or a rough nail. In that case, you could be faced with a costly claim.
Professional Liability Insurance – also called Professional Indemnity or Error & Omissions insurance.
The sports world today has become a highly litigious environment.
This makes it essential for service providers to get protection in case customers allege acts involving negligence, errors, or omissions.
If the matter turns into a lawsuit, even if the final decision goes your way, the cost of defense can be substantial, and the impact on your reputation can be damaging.
You should consider purchasing Error & Omission insurance because in your business you offer professional advice to clients and maybe even contractual services if you're dealing with professional players.
If you or your business provides these professional services, you need professional E&O coverage because these services come with risks.
You could be held liable for:
breach of contract
providing incomplete work
providing substandard work
work errors or oversights
missing deadlines
If your customer claims that any of these resulted in financial losses or reputational damage for them, then they could sue to recover from you all damages.
If the matter becomes a legal case, you need coverage for the associated attorney fees and court costs along with the actual settlements or judgments.
And this could be for both your own associated costs, but for the other party's as well if the decision goes against you.
Even if there was nothing wrong with the quality of your tennis coaching, a difficult or dissatisfied customer could sue your business over a perceived problem.
In that case, you might win the lawsuit but still have to pay attorney fees and court costs out of pocket. Without professional liability, a lawsuit could present a significant financial difficulty for your business.
Standard coverage includes client damages arising from services provided by your company or by your company's failure to provide such services when contracted to do so, and reputational injury arising from libel or slander whether or not it was true
Let's look at some real-life examples:
Suppose you are coaching a rising young player and forgot to give your client some forms they needed to fill-in to qualify for an upcoming qualifying tournament.
This may result in them missing a whole round of qualifying games, and you could be sued for thousands.
Some other examples of claims that you could face:
You advise a client on performing an exercise, but she falls while doing it and injures herself. She could take legal action against you, alleging you failed to explain the move properly.
You produce a personalized training plan for a client, however, they don't achieve the goals you promised. They take legal action against you, claiming your training was inadequate.
You help a student stretch following an exercise session, however she pushes the limb too far and it tears a ligament. They take legal action against you for injury, pain and suffering.
Customers frequently demand Public Liability insurance cover before allowing you to begin your training sessions, and it is generally considered vital cover for coaching professionals of all descriptions.
Workers Compensation Insurance
In most states, it is mandatory to have worker's compensation insurance if a business has one or more employees.
Worker's compensation insurance covers the business against any costs that arise if an employee experiences an injury or becomes sick due to work.
You should also be aware of and avoid one potential pitfall: you may have employees you don't know about in legal terms.
This is because most states treat an uninsured part-time employee or subcontractor exactly as an employee if they are injured while working for your company.
Currently, workers' compensation legislation provides for specific benefits to any workers who suffer work-related illness or injury.
The benefits include medical expenses, death benefits, lost wages, and vocational rehabilitation.
Failure to meet a state's regulations in this regard can leave you as the employer to pay penalties levied by the states. On top of that, employers are exposed to paying the appropriate benefits out of their own pockets.
Even if your home state does not mandate it, you must consider worker's compensation insurance, as it will protect you and your employees and lead to a healthy work environment.
General insurance
General insurance covers your office buildings, office contents, and computer equipment against accidental damage (including theft) while in your training facility, or in a rented center.
Business equipment such as laptops, tablets, and phones when they are with you in a training session are protected from loss from fire, theft, or damage to your property.
Disability income insurance
Think carefully – what is your most valuable asset?. Of course – it's you. So, what happens if you are injured or become too sick to work.
The loss of income will immediately affect your lifestyle. In the same way that you protect your home and car, protect your income.
If you become too ill or injured to work, disability insurance can help replace part of your paycheck. Medical insurance pays your doctor — disability insurance pays you.
How long could you cover your business expenses, and your daily living outflow, without your regular income? Even if you qualify for Social Security disability benefits, they are modest, with an average monthly payment of less than $1,200.
Personal accident/disability insurance can provide you with a weekly income if you cannot work due to temporary disablement.
A lump sum would be paid out in the event of loss of speech, hearing, limbs, sight, permanent total disablement, or death.
Few tennis trainers and instructors will be lucky enough not to be injured at some point during their work life, and occupational personal accident insurance can help you maintain a livable income if you are unable to work following an accident.
Cyber risk insurance
As business becomes more sophisticated, your dependence on advanced computer systems to manage your clientele, accounts, and performance data grows with every passing day.
Cyber risk insurance covers you for any costs of restoring data and equipment, meeting ransom demands in the event of a cyber attack, preserving information about clients and much more.
As well, any loss of your income, legal defense costs, and damages you may become legally liable to pay to other parties due to such an attack.
If you are holding confidential information about your clients on computers and other internet-connected devices, you should consider this cover.
Do you own the tennis training facility?
You may also need to cover your clubhouse with Commercial Property Insurance.
Commercial insurance covering real estate is a major, and perhaps even the most important, aspect of commercial insurance. Basically, it pays for losses and damages incurred to business property, whether leased or owned.
As a tennis trainer, you will probably have invested thousands of dollars in equipment, furniture, gym gear and so on in your office.
And the special external facilities will probably add up to much more. The policy would cover computers, copiers, fax machines, air conditioners, and basic furniture like chairs, tables, reception couches, and so on.
Damage or theft of any of these essential things can cost you a substantial amount, which is where your policy steps in.
Such damage may have been caused by natural disasters like earthquakes or floods, or accidentally because of the actions of one of your employees.
The cost of commercial insurance on real estate will depend on several factors, such as the property's location, which influences whether it is prone to natural calamities.
There are several additional coverages to choose from for commercial property insurance, such as:
Equipment breakdown insurance, which covers your business against damage to all types of equipment, for example, if a fire in your office has caused damage to the computers, air conditioners, or any other items, machinery insurance will cover the replacement costs.
What kind of coverage should you be looking for?
Tailor your insurance for tennis coaches policy to include as much or as little cover as you want.
See whether you can spread it over monthly payments. Investigate whether you should use short-term insurance if you're only active at some times of the year.
This would be the case if you only work outdoors in the sunny months, or if only on certain days of the week, or even some hours of the day.
However, you must expect to pay substantially more for short-terms cover than you would for a full-year, based on the cost-per-day comparison.
Can you use both temporary and full-period insurance together?
This can certainly make sense in some cases.
For example, if you have a steady workflow with private customers, but suddenly a chance comes up to go on tour with a major team.
It means that your levels of risk exposure, especially of general and public liability, would be much higher for the period of the tour.
Let's illustrate how it could work for you to add short-term insurance to your basic insurance for tennis lessons package.
In the first case, you may have to have the extra insurance cover as a condition before they will take you on as the tennis instructor for the tour.
It doesn't make sense for you to have to renegotiate your whole policy, at much higher premiums, just for the few weeks of the tour.
Even if your customer didn't insist, you certainly should have proper tennis coach insurance coverage to protect you while on the job.
Temporary insurance will work for you. You can take out cover for the days or weeks you're working on tour because short-term liability insurance for tennis coaches keeps you covered over that specific timeframe or activity.
How much would the tennis coach insurance cost?
It depends very much on your location, the amount of liability risk you want to cover, and how busy you are.
Talk to a reliable agent or broker, or to your fellow tennis coaches and trainers, and be sure to search on the internet because there are hundreds of insurance companies that are eager to get your business.
Final thoughts
By its very nature, tennis coaching has many inbuilt risks.
You should be asking yourself not whether you can afford the types of insurance we have been talking about, but can you afford not to have insurance?
When you are faced with an unforeseen event that can hit your bank balance with substantially more effect in the case where you don't have any cover.