Cabinet Maker Business Insurance – Cost and Types of Policies
All business is risky, but when you are specializing in an area like woodwork, you need to take extra steps to get Cabinet Maker business insurance to cover your risks, and the right kinds of cover. Insurance is meant to protect you, the business owner's, financial interests and is an essential expense for a business.
In this article, we will cover the main aspects of insurance coverage for cabinet makers, including the areas of liability insurance, asset insurance, workers compensation, vehicles, income protection and all the rest. that are suitable for this business.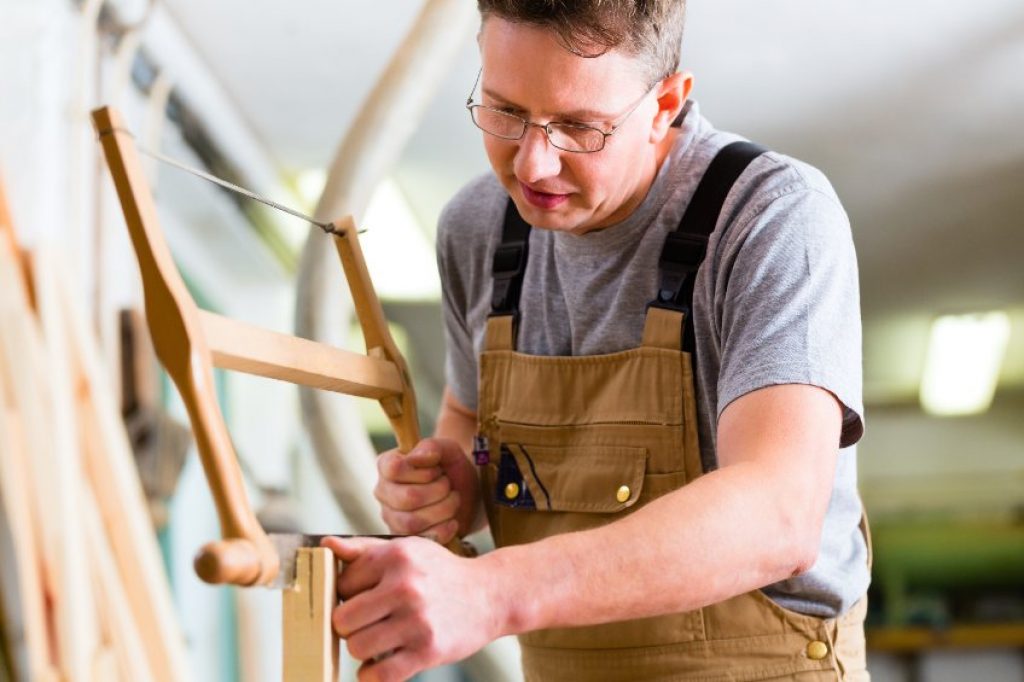 Why is woodworking a special case when it comes to insurance?
By its nature, working in wood can be a risky business.
When your work environment combines flammable wood, sawdust, incendiary glues and combustible paints, stainers and finishes, and adds to that electrical tools that can generate sparks and extreme heat, then any assessment will rank your business as high-risk. 
This is especially important if you are working in a workshop attached to your home, because most homeowners insurance policies will have very low limits on the totals allowed for individual claims.
If your whole workshop goes up in flames, you will be left having to foot the bill almost entirely on your own, even with good homeowners' cover.
This means that for protection, taking out separate business coverage is not a luxury – it is vital.
Remember, it's better to have insurance that you don't need, than to need insurance that you don't have!
Another thing to remember is that your claims history can have a strong influence on your insurability.
What this means is that if you have never had insurance for your business, you are not simply starting off with a "clean slate", you are starting off as a complete unknown.
It can turn out that you will have trouble getting any adequate levels of property insurance and liability cover, or to get it at reasonable rates.
This means that you can't start soon enough.
Even if your business is small now, if you have ambitions to grow over the future years, then investing in insurance now is buying you better cover in future.
General Liability insurance for cabinet makers
To protect your business and yourself, you need to carry General Liability insurance cover.
It is also called "trips and falls" insurance because often such claims are lodged if a visitor (customer or just a casual person) falls through a weakened step, or trips over a cord connecting some electrical tools to the power.
There is always the extreme hazard in a physical environment like a workshop of burns from heated tools, or spilled chemicals which can cause skin burns, or spoil clothing and shoes.
If anyone falls and injures themselves, burns skin or part of their clothing or sustains any such, they can claim negligence on your part and sue.
General liability insurance provides cover for your business from having to defend such a claim, and from having to pay for such third-party bodily injury and property damage claims if the court decides against you.
A cabinet maker should carry high-than-average levels of general liability insurance, because your operation is exposed to extra levels of inherent risk. 
Professional liability
Professional Liability insurance may be necessary for a cabinet maker if your business is taking in work on contract. 
This can be because it is not always possible to get exactly the result that your customer specified and that you promised, even though you tried to achieve it.
Another way in which you can be sued  is if your cabinet making had to coordinate with other work.
For example, if the specification you have been given were as part of a whole building refit, then if your output does not exactly fit in with the rest of the project, you could not simply not get paid, but could even be sued if the failure resulted in some extended loss to the customer.
Say for example you are engaged to produce a set of cabinets to fit out the offices of a firm of attorneys' new offices.
If, as a result of the work being rejected because it doesn't match specifications, then the customer may sue your business for recovery of the loss of business while the replacements are being built, claiming that the offices couldn't be opened on time.
One thing that it's important to know is that professional liability insurance is not involved in payment disputes.
In any case where a customer decides that your work was not satisfactory and refuses to pay, this is not something that is covered by professional liability cover.
However, the most significant benefit of all liability insurance protection is that your insurance company is the one that has an obligation to defend you in case of any lawsuit, even if in the end the decision goes that it was your fault.
What this means is that you don't run the risk of having to organize the defense or pay for the legal costs, nor have to pay any settlement awarded by a court, even the legal costs of the other party if awarded against you.
The insurance company is the front-line defense on their own and your behalf, and they have much more experience and expertise in fighting liability claims.
Asset Insurance for a cabinet maker businesses
All of the locations from which you conduct the business activities, whether or not you lease them or own them, must be protected against damage.
Such damages can come from natural events like storms, floods or earthquakes or from deliberate damages such as vandalism, fires and sabotage.
The kind of insurance policy that provides such cover is Commercial property insurance. 
Most commercial insurance policies cover the improved value of land (in other words the buildings and improvements).
A policy should also cover the value of the business-related contents of the premises that are not directly involved in cabinet making, like the office equipment and furniture, computers, and so on. 
Commercial insurance does not cover production tools, work-in-progress and inventory unless you add specific clauses to include them.
For this reason, it's important to consult with an experienced cabinet maker insurance broker or insurance agent to negotiate the full level of cover appropriate to your own business style.
When calculating the level of cover that your business insurance should provide, you should consider that for all woodworking activities, the risk of damage can be quite high due to the use of abrasives, chemicals, mechanical tools with sharp blades etc.
Woodshops are especially vulnerable to fire damage that can easily ruin the whole enterprise.
Commercial auto
If you are delivering the finished goods to your customers, or you are collecting raw materials from suppliers, or even transporting yourself and any workers between sites, then make sure that you have commercial vehicle insurance.
Commercial auto insurance is different from private vehicle insurance.
You could be breaching private vehicle insurance policy rules if you are using a personal auto for transport, collections or deliveries because such a policy will almost certainly explicitly exclude commercial activity.
Commercial auto cover also gives you much higher protection than private insurance, usually starting at half-a-million and going as high as one million dollars in case of a major claim.
Equipment insurance
for cabinet makers
Most professional cabinet makers would have had to invest a lot of money in the special tools, turning gear and machinery that modern woodworkers need to meet their customer's unique needs. This is all at risk of loss from damage or theft.
You should have Equipment Insurance to protect your investment.
It provides the safety you need so that if anything happens, you can replace whatever is missing or lost immediately and know that a refund from your insurance company will cover these costs.
Income protection
If you are running the cabinet making business as a single-person operation, it makes sense to protect yourself in case something happens that forces you to stop working normally, especially if you rely on some of the income flow from the business for your own expenses.
It's always best to consider the value of business interruption insurance.
It is available to owners of small woodworking businesses.
It can provide coverage for any income lost in case the business was forced to suspend operation because of  sickness or personal injury to you or a key worker, until the time your business is up and running again.
Think about taking out a Business Owners Policy (BOP)
You may be able to get insurance cover at a cheaper rate by taking it as part of a business owner's policy (BOP) rather than as individual policies.
BOP is a comprehensive solution especially structured for small to medium businesses that provides multiple forms of coverage, such as general liability, business interruption and commercial property insurance.
Workers Compensation Insurance
Workers compensation insurance is mandated by almost all the states.
The number of workers that trigger the requirement varies between each state. Refer to the state regulations relevant to your location to see whether your workforce levels require cover.
The policies provide for coverage in case a worker suffers work-related illness or injury, such as medical expenses, lost wages, and vocational rehabilitation – even death benefits. 
Be aware that if you or your company fails to meet the stipulated state regulations, you could be left to pay a heavy penalty, and to have to pay the appropriate benefits out of your own pocket.
In almost all states except North Dakota, Ohio, Washington, West Virginia, and Wyoming, you can get workers compensation cover from an independent insurance company.
In those five states, your business can only get coverage from the government-run monopoly state funds.
Umbrella Insurance
All policies have limits, and umbrella insurance policy is designed to take over at the point where your basic insurance policy cut out.
If your own knowledge and experience leaves you to judge that a standard level of cover may leave you exposed, then a commercial umbrella policy can provide the extra cover, paying when the original limits are reached.
How much is insurance for a cabinet maker business?
Cabinet makers insurance costs depend on many features of your own business, such as the type of goods you supply, the size of the business, where it is located, your own claims history and many more. In the following table, we show some general guidelines that we can give based on our own experience dealing with businesses that deal in similar sectors, such as Handyman, Solar panel contractor, Roofing contractor, Freelancer, Fence Installer, General Contractors, Plumbers, Painter, Electrician, Glazier, and Carpenter.
The following are the general levels of cover recommended, with rough estimates of the range of expected costs for annual premiums:
| | | |
| --- | --- | --- |
| Insurance type | Basic level of cover | Expected range of annual premium |
| General Liability  | $1 million full year, $500,000 for a single claim | $300 – $550 |
| Product liability insurance | $250,000 for the full year, $25,000 single claim with $1000 deductible | $300 – $500 |
| Commercial auto insurance | Based on replacement cost | $1350 – $2300 |
| Commercial property insurance | Calculated on insurable value (IV) | $0.35 – $0.50 per $100 IV |
| Business interruption | $10,000 with $500 deductible | $500 – $1350 |
| BOP insurance | $1 million general liability + calculated commercial property cover | $350 – $500 & $0.30 – $0.45 per $100 IV |
FAQ
What is covered in the business owner's policy?
A typical BOP includes coverage for general liability, business interruption, and commercial property.
Some BOPs can be customized, so if you have any special concerns, talk about them to your insurance agent or broker. 
What insurance do I need for my workshop?
Almost certainly, you will need general liability insurance, commercial property insurance and equipment insurance.
The other main options depend on the nature and size of the business. For example, if the cabinet making business is an important source of your personal income, think about Business Interruption so you can sleep at night.
Who has the cheapest business insurance?
The cost of business insurance depends on many different factors, including the size of the business, your claims history, the levels of risk and several others.
No one can guarantee that they are giving you the "cheapest possible" deal, so shop around, consult with insurance agents and brokers, and let your fingers do some walking through the internet with searches on your favorite websites.
What practices can improve my business' insurance rates?
Safety is the keyword in a risky environment like a woodworking shop.
Try to keep the simple rules like:
Keep electrical equipment properly grounded

Never let anyone in the woodworking area smoke

Keep it clean

Only apply chemicals and paints in an appropriate section blocked off from the rest

Store hazardous and flammable materials safely, away from sources of heat and combustion

Where possible, store inventory (woods, cardboard and anything else flammable) away from the work area. 

Only have on hand material you need for the task in hand

Keep visitors out of the workshop. Talk business in a separate room