Hazard Insurance for Small Business
Business hazard insurance is a very special kind of cover that is relevant to owners of businesses running out of physical premises.
It is not the same as commercial insurance in owner or rented premises, and for any small business running out of a private home, it's not the same as homeowners insurance.
We will try in this article to explain where you as a small business owner need Small Business Hazard insurance.
Business hazard insurance helps protect the owned or rented building where your business is located.
It also provides cover for any assets and consumables that you use to run your business.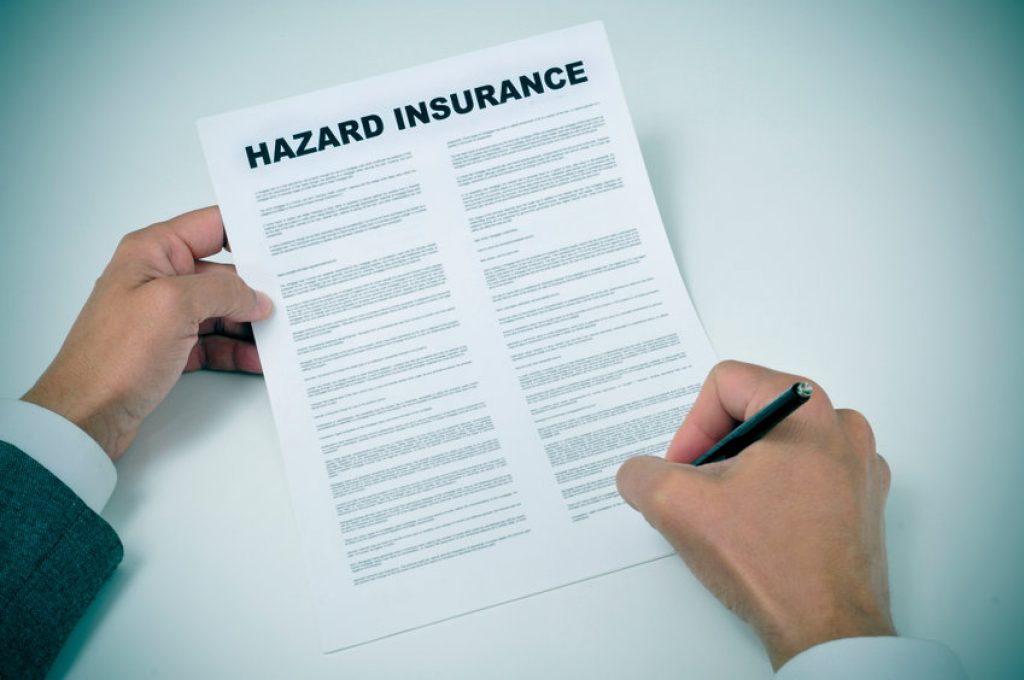 So, what exactly is a "hazard"?
In this article, we need to make clear differentiation between the coverage that is usually part of a typical property owner's insurance, either Homeowner for private dwellings or Commercial Property for business buildings, and specific hazards that you should be insuring against.
Almost all homeowners and commercial property policies cover at least some "hazards".
For example, if a high wind blows the roof of your garage, the homeowners' policy should be covering you. So you do have cover against that hazard.
The same goes for a shop where a hurricane damages part of the outer fencing.
Again, the commercial property policy should be covering you.
The 'hazard' we are dealing with is a freak event, maybe what you think of as a catastrophe.
Maybe you need to think of it in legal terms, where your insurance policy will define it as an "Act of God".
Almost all homeowners and commercial property insurance policies contain a standard "Act of God" clause stating that the insurance company is not liable for any damages or costs.
What could be an "Act of God"?
An Act of God is an event or accident resulting from natural causes.
Earthquakes, floods, volcanos, hurricanes, riots or terrorist attacks are generally excluded from standard insurance policies as "Acts of God".
Special hazard insurance is available for specific natural disasters, such as flood insurance, storm insurance for hurricanes and tornadoes, earthquake insurance, and volcano insurance.
Homeowners' insurance and commercial property insurance may exclude loss or damage from certain types of events.
Example: destruction or damage from earth movement due to landslides, sinkholes, mudslides or earthquakes, or flash flooding from extreme low weather depressions, typhoons or tsunamis typically are not covered by those policies.
There may also be an exclusion of what are "named perils", which specify exactly what is not covered, and this can be different from company to company.
Even if it is an "all perils" policy, it may cap the level of cover with specified limits so you may not be fully insured against some type of catastrophic event.
Here's Why You Need Hazard Insurance
Start by looking at your existing commercial insurance policy, or mortgage insurance policy, to see if it already explicitly includes hazard cover and if not, here are some steps you can take.
What is hazard insurance? In simple terms, it should cover you if any physical damage occurs to the business property or building contents that is caused by defined hazards.
Hazard insurance is a term that can be included in other types of insurance policies, like commercial property, homeowners, or renters insurance.
With these, you are already covered from many defined hazards, which we will list below.
This is what hazard insurance actually is.
Small business hazard insurance can help cover the costs to repair or replace work premises in case of a calamitous event.
As well, when such events also cause damage to the building contents, like:
Tools and machinery
Special clothing
Stock and inventory
Furniture, computers, printers, servers and all fixtures and fittings
Documents and records
For all of these, business hazard insurance will cover your replacement costs.
Special considerations for businesses run from home
There are some differences between hazard insurance and homeowners insurance.
Even if you have homeowners insurance, when running the business from home, such as running a photography or dance instructor studio, software developer office, Amazon FBA sales point, you probably need separate business hazard insurance.
In most homeowners insurance policies, commercial activities from domestic premises are explicitly excluded from the cover.
General businesses that need hazard insurance.
Suppose you have a business that runs out of a shop, warehouse, factory or some part of your home, such as solar panel installers, electricians, general contractors, roofer, painter, glazier, fence installers, plumber. In that case, you need hazard insurance covering your business contents to provide protection for the possibility of losses due to the many dangers from natural occurrences.
In response to COVID-19, small business owners from all U.S. states and territories can apply for the COVID-19 Economic Injury Disaster Loan.
The purpose of the low-interest loan is to meet financial obligations and operating expenses that could have been met had the disaster not occurred.
A loan for 24-months of economic injury can go up to a maximum loan amount of $500,000.
It's in addition to the EIDL disaster loan for Federal assistance for the repair and rebuilding of non-farm, private sector disaster losses.
The disaster loan program is the only form of SBA assistance not limited to small businesses.
The terms of interest and repayment are 3.75% for businesses, fixed for 30 years, with no pre-payment penalty or fees.
Small businesses must use the proceeds for working capital and normal operating expenses, such as a continuation of health care benefits, rent, utilities, fixed debt payments.
Requirement for hazard insurance for SBA
SBA is requiring that your hazard insurance is at least 80% of your pledged assets. WARNING: If an insurance salesperson tells you you need 80% of the loan, very politely tell them thank you, and hang up! You are insuring  your assets, you can't insure something you don't own!
FAQ
How much does hazard insurance cost for business?
It's not possible to state generally what a company's or business' hazard insurance premium will be.
It depends on too many specifics.
For example, if you have adequate commercial property insurance, but that policy has specific exclusions, then the only cost of hazard insurance for your business would be for covering those exclusions.
What is hazard insurance for a business?
Most businesses already have some degree of cover against hazard included in their commercial property policy.
There may be some extra cover required to protect you from exclusions or general "Acts of God".
Is hazard insurance the same as liability insurance for business?
No. There is no connection. Liability insurance deals with claims against you for injury, damage or professional mistakes / errors.
Hazard insurance covers you when you suffer some loss due to external events.
Can I get hazard insurance for my business online?
Hazard or catastrophe insurance is very specialized, so you should do some research on the internet, and find a qualified broker or agent who will be prepared to give you solid advice and take your business to the right insurance company.
Final conclusions
Hazard insurance for small business is a very specialized area.
It could take you hours of study to understand whether your homeowners or commercial property insurance policy does or doesn't cover you against specific hazards.
Our best advice is to discuss this with a friendly agent, broker, or insurance company rep.