List of the 12 most common handyman services
Handyman services cover a wide range of tasks that require expertise and knowledge. From basic household repairs to more complex renovations, having an experienced professional can make all the difference in getting the job done right.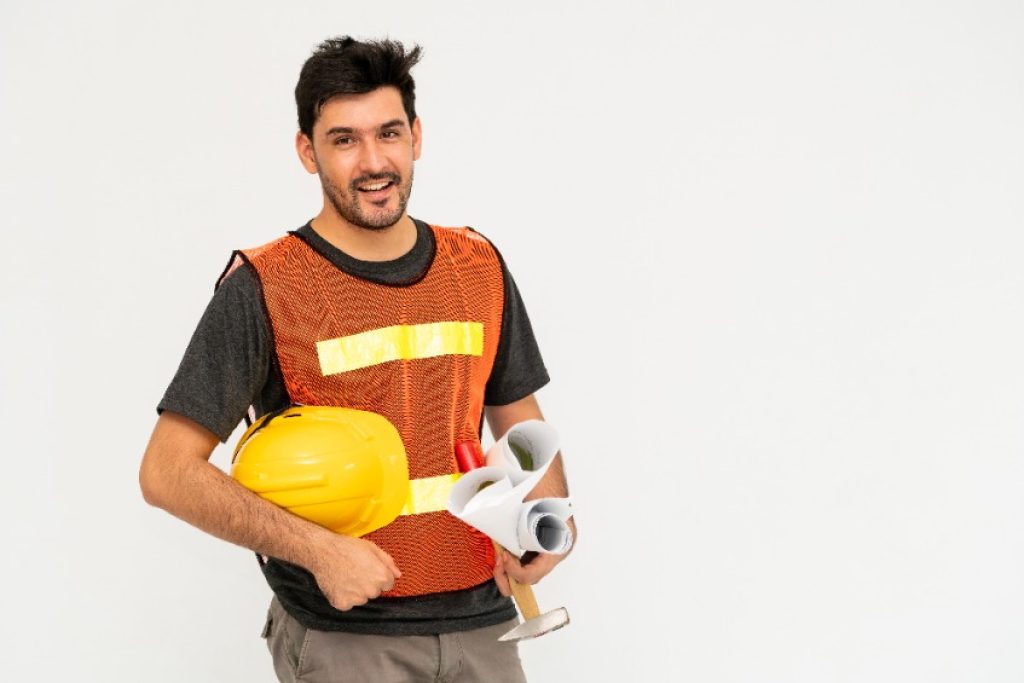 The following is a list of the 12 most common handyman services:
1. Furniture assembly
Data from several years of professional furniture assembly shows that the average cost for a basic furniture assembly job is around $50, depending on the complexity of the task. Assembly times for large items can range from one to two hours and up to four hours for more complex pieces. Generally, it takes about one hour per piece plus an additional fifteen minutes for setup and cleanup.
Most handymen charge a flat rate for furniture assembly, with the cost for larger items running higher. Some furniture retailers also offer free or reduced-cost assembly services when you purchase their products. There are also many online companies that specialize in professional furniture assembly services at affordable rates.
Furniture assembly is a task that requires skill and experience, so it is important to hire a professional handyman with the right qualifications.
A good furniture assembler should know different materials, tools, and techniques used in furniture assembly.
They should also be able to follow instructions accurately to ensure the finished product looks great and functions properly. Finally, they should be able to complete the job in a timely manner, without any damage to the furniture or your home. With these qualities, you can be sure that your furniture assembly is done right and will last for years to come.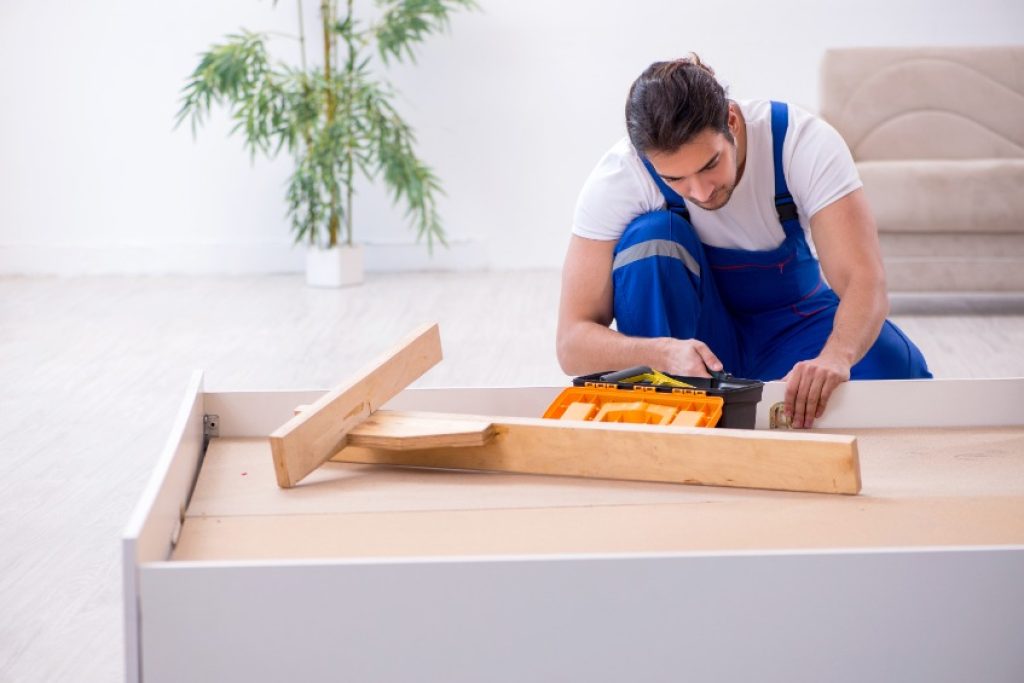 2. Painting
Handyman painting requirements vary depending on the job. However, most require a few basic items in order to complete the job properly. These items include primer, brushes and rollers, tape, sandpaper, drop cloths, and paint. If you are doing an exterior painting project, you may also need ladders or scaffolding to reach hard-to-reach areas.
Safety gear like goggles, gloves, and a dust mask should also be worn to protect yourself from any hazardous materials that may be used during the painting process. Additionally, depending on the job you are doing, you may need additional supplies such as caulking or spackling compound. Having all of these items ready before you begin your project will save you time and help ensure the best possible results.
General painting statistics:
Number of Painting Projects Completed Annually: Over 365,300, read here for more info.
Average Cost of Painting a Room: $200-$400
Average Time to Paint a Room: 4–6 Hours
Most Popular Colors for Interior Walls: White, Off-White, Gray, Beige, Creamy Tones
Most Popular Materials Used for Exterior Painting: Acrylic Latex, Elastomeric Coatings
Average Cost of Exterior Painting Project: $1,500-$5,000
Most Common Issues with Poor Painting Jobs: Peeling Paint, Bubbling or Blistering Paint, Discoloration or Fading.
Common Causes of Poor Painting Jobs: Not Properly Preparing the Surface, Using Low Quality Paint or Materials, Applying Too Much/Too Little Paint.
Benefits of Professional Painting Services: Durable and Long Lasting Finish, Enhances Property Value, Increased Curb Appeal, Professional Results.
3. Drywall repair
Drywall repair is one of the most common handyman services. It involves patching small holes, replacing larger sections and undoing damage caused by moisture or pests. Drywall repair can range from simple patchwork to complex projects that require specialized materials, tools and skills.
A professional handyman will have all of the necessary tools and expertise to quickly and accurately complete any drywall repair project. It is important to hire a professional handyman for these services as they have the knowledge and experience to ensure the job is done correctly.
Additionally, many of these projects require special permits or approval from local authorities, so it's best to leave such tasks to a professional rather than attempting them yourself.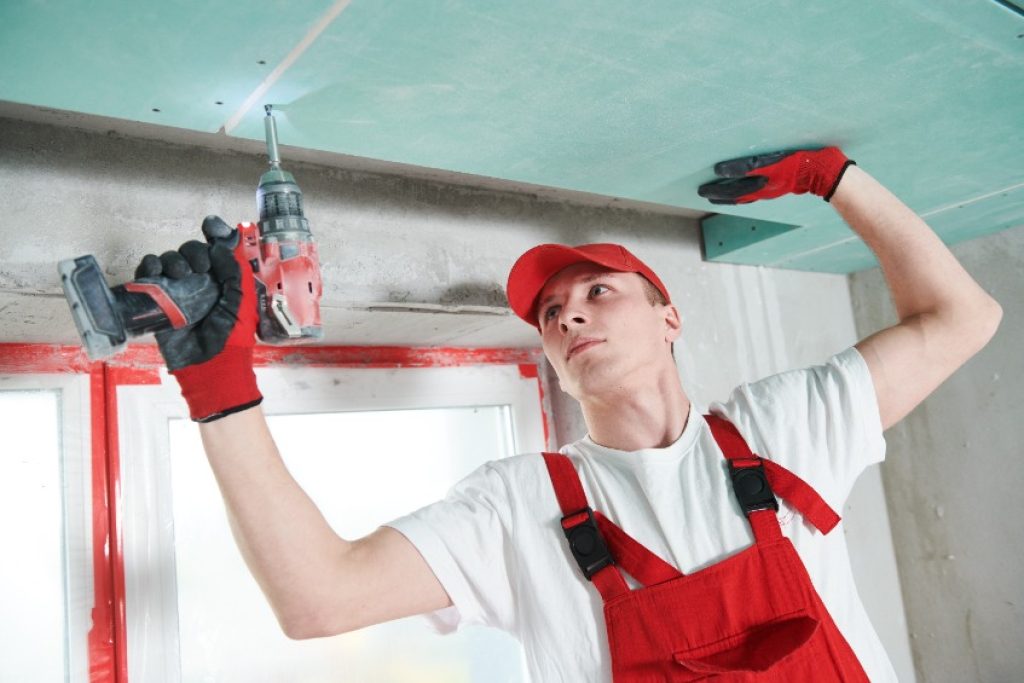 4. Plumbing
Plumbing services are a common area for handyman to specialize in. Whether it's replacing a faucet, fixing a sink or tub drain, or installing new pipes, plumbing is often an integral part of many home repair projects.
Many handymen are experienced with specific areas of plumbing and can handle small repairs as well as larger projects.Handymen can also help with larger tasks such as installing new water heaters, replacing old pipes and fixtures, or re-plumbing a bathroom or kitchen.
Many are knowledgeable in specific areas of plumbing such as fixing clogged drains or toilets, repairing leaking pipes, and unclogging sewers. They can also install new plumbing fixtures, repair toilets and sinks, and repair faucets.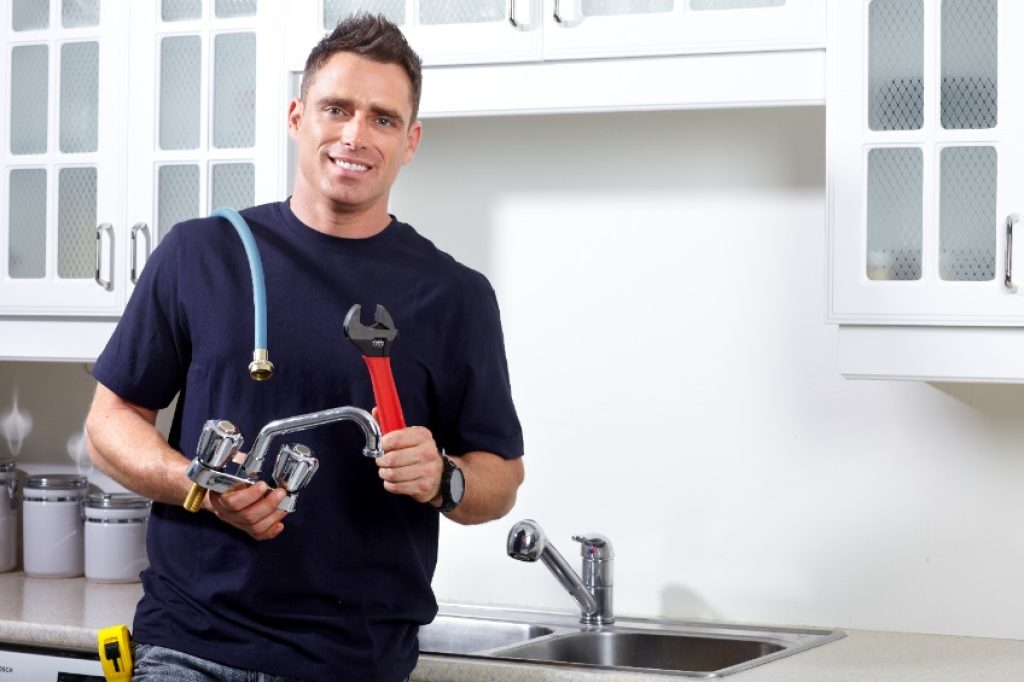 5. Electrical work
Handymen are also able to provide electrical services. Depending on your jurisdiction, they may legally be able to install and repair light fixtures, switches and outlets, circuit breakers and fuses, thermostats and smoke detectors.
Some may even be able to help with troubleshooting problems in existing wiring or installing new outlet boxes for additional receptacles. However, it is important to check your local regulations and the handyman's qualifications before having any major electrical jobs done.
In some cases, it may be necessary to hire a licensed electrician instead. In addition to basic electrical services, handymen can also provide more specific repair and installation services such as generators, ceiling fans, home theater systems and more.
Again, check local regulations and the handyman's qualifications before having any major electrical jobs done. It is important to note that all electrical work should be done according to the specifications of the local jurisdiction and the manufacturer's instructions. Neglecting this could result in dangerous safety hazards.
6. Flooring installation and repairs
Flooring installation is one of the most common handyman services that can be provided. A skilled handyman can help to install all kinds of floors, including wood, laminate, vinyl and tile. They can also take measurements and provide advice on what kind of flooring would best suit your home or office.
Additionally, they can help to repair any existing flooring and can even replace tiles if necessary. If you need your floors installed quickly and professionally, then engaging a professional handyman service is the way to go. They will ensure that the job is done correctly, efficiently and reliably.
They can also provide other services, such as painting walls and ceilings, hanging pictures and curtains, and assembling furniture. So whether you need a new floor or just need some minor repairs, engaging a professional handyman service is the best way to get the job done.
7. Roofing repairs
A handyman can perform a variety of tasks related to roofing, such as minor repairs and caulking, patching holes, clearing away debris and moss from roofs, replacing broken or missing shingles, and more. Furthermore, a handyman can also repair flashing, install guttering systems, and make emergency repairs in the event of a storm or other damage.
For more extensive roofing projects including full replacements and re-roofs, it is best to hire a professional roofer. Even so, handymen can provide valuable help with these projects as well by performing tasks such as demolition and debris removal.
8. Deck repairs
Whether it be replacing broken boards, sanding and re-staining, or general maintenance, a handyman can help you repair your deck.
From inspecting posts and railings for wear and tear to assessing wood rot or splintering issues, they'll look at the whole structure before giving you an estimate of how much work needs to be done.
Handymen can also install or replace decking materials like composite deck boards and railings and provide advice on how to maintain the condition of your deck over time. In addition, general carpentry services such as building benches and planters are usually within their scope as well.
9. Pressure washing services
Pressure washing services are a great way to maintain and improve your home's appearance, increase its value and make it more attractive to potential buyers. Pressure washing can remove dirt, mildew, fungus and other pollutants from hard surfaces like vinyl siding, driveways, patios, decks and sidewalks.
This helps to prevent long-term damage caused by these contaminants. Pressure washing also removes built up grime, grease and other debris, making surfaces look brand new again.
Handyman services can include pressure washing services as part of a regular maintenance program or as a one-time service. Technicians have the right tools and specialized experience to safely and effectively pressure wash your home's exterior.
They can also provide advice on the best ways to protect the surfaces from future damage. Pressure washing should be done periodically to keep your home looking clean and attractive. Many handyman services offer packages that include regular maintenance as well as one-time services, so you have
10. General handyman installations and repairs
Appliance installation:
Handyman services can be hired to help with the installation of appliances, including refrigerators, dishwashers, ovens, microwaves and more. Professional handymen will have the right tools and know-how to install these items properly and safely in your home or business.
They also have access to any necessary replacement parts should something go wrong during the installation. In addition, handymen can help you with any additional services related to your appliance installation, such as sink and countertop removal for dishwashers or refrigerator condenser coil cleaning.
With their experience and expertise in installing appliances, they'll be able to get the job done right quickly and easily.
Gutter installation and repairs:
Handymen can install new gutters, repair existing gutters, or clean out clogged or damaged gutters. If your gutter system is not functioning properly, a skilled handyman can provide an assessment and recommendations for repairs or replacement.
Handymen often have access to the latest technology and best materials for durable gutter systems that will last for years.
They can also provide advice on the best positioning of your gutters and advise on the best type of material for your particular climate. Whether you need new gutter installation, repairs, or a thorough cleaning, an experienced handyman can provide quality service at a reasonable cost.
Installation of shelving units, closet organization systems, baby gates and pet barriers.
Tiling Installation – Install new tile to walls, floors, countertops, showers and tubs; repair existing tile or grout lines.
Installation of security systems and cameras.
Installing grab bars in bathrooms for safety.
Installing pet doors and screens.
Installing attic ladders for access to storage spaces.
Repairing broken locks and changing out locks on doors and windows.
Replacing bathroom fixtures like sinks, toilets and bathtubs.
Fixing doorknobs and locks, repairing broken stairs or banisters, securing loose railings.
Basic appliance repairs: Changing out refrigerator water filters and ice makers, fixing dishwashers, disposals and garbage compactors.
11. General handyman maintenance
Exterior maintenance: Pressure washing, cleaning gutters and downspouts, trimming trees and shrubs, resealing windows and doors, caulking around edges of exteriors.
HVAC maintenance: Change air filters, inspect and repair ductwork, clean the outdoor condenser unit.
Window maintenance: Cleaning windows, repairing window frames or sashes, replacing glass pane inserts.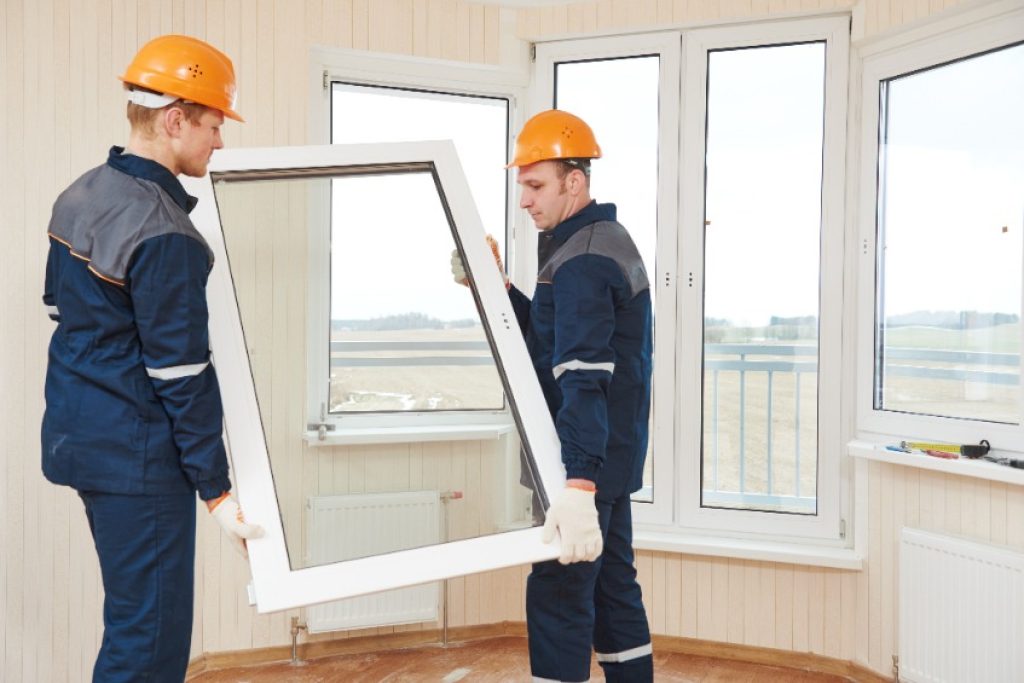 12. General handyman services
Landscaping services: Planting flowers or shrubbery, building raised garden beds or decks, mulching and weeding.
Moving services: Loading and unloading moving vans, arranging furniture in the new home or office.
TV mounting services: Hang TVs on walls, set up home theater systems, connect to sound equipment and secure wiring.
Cleaning up construction projects: Cleaning up debris from home remodeling projects and prepping homes for sale.
FAQ
What is the most requested handyman service?
The most requested handyman service is a variety of home repairs and maintenance tasks. The most commonly requested services include plumbing, electrical work, painting, drywall repair, carpentry, pressure washing, appliance installation and repair, television mounting, gutter cleaning and general repairs. In addition to these tasks, many handymen provide additional services such as furniture assembly or minor home improvement projects.
What is the most profitable handyman service?
The most profitable handyman service will depend on a variety of factors, such as the local market and demand for services, overhead costs, materials needed for the job, and more. Some of the most profitable projects for handypersons include plumbing repair and installation, electrical work, carpentry and finish work such as flooring installation or furniture assembly.
Other potential services that often have high profitability margins are painting and landscaping services. Additionally offering additional home improvement services such as appliance repairs or HVAC maintenance can also increase profits.
In order to maximize profits it is important to focus on customer satisfaction by providing quality workmanship in a timely manner at reasonable prices. It is also important to build relationships with customers so they become loyal customers and recommend you to their friends.
It is also beneficial to advertise your services online or through word-of-mouth in order to increase exposure. Additionally, offering discounts for seniors, veterans, and other groups can help increase profits as well.
Ultimately, the most profitable handyman service will depend on the scope of services offered and how much effort you put into marketing yourself. By focusing on customer satisfaction, building relationships with customers, and advertising effectively you can ensure that your business remains successful and profitable.
What is the riskiest handyman service?
The riskiest handyman services involve electrical work, plumbing and gas line installations. Any of these services can cause serious harm if done improperly, so it's important to hire an experienced professional who is licensed and insured.
Other hazardous services include anything that requires the use of heavy machinery or power tools such as tree trimming, roof repairs and demolition projects. Always take extra precautions when working with hazardous materials like lead paint, asbestos, or other toxins.
Additionally, using ladders or scaffolding can pose certain safety risks as well. Before undertaking any risky projects yourself, consider hiring a professional to ensure the job is done safely and correctly.
Does a handyman need a license?
The requirements for licensing may vary from state to state, so it is important to check with your local jurisdiction before hiring a handyman. In most cases, licenses are only required for tasks that involve gas or electrical work and modifications of existing structures.
If you are considering a project that falls into these categories, make sure to check with your local municipality for the necessary licensing requirements. Additionally, it is always best practice to look for someone who holds a license or certification for their craft as this will demonstrate expertise and reliability.
In most cases, however, handyman services do not require a license and can include a variety of tasks such as carpentry, painting, and general repairs. For more significant projects that involve remodeling or extensive construction, you may want to look for a contractor who holds the appropriate permits and license.
Ultimately it is important to do your research before hiring anyone so that you are sure your project is being done safely and legally.
Does a handyman need insurance?
Generally speaking, it is a good idea for handymen to have liability insurance in case of an accident or injury. This will protect them should something go wrong during the course of their work. It can also help protect you as the homeowner if there is damage to your property during the job. Some states even require that contractors have liability insurance in order to legally provide services.
Final thoughts
The list of handyman services can be customized to fit any homeowner's needs, whether it's a small project around the house or an extensive renovation. Hiring a professional handyman ensures that these projects are completed properly, quickly, and safely.
With years of experience in their trade, professional handymen will have the necessary skills and tools to get any job done right. No matter what your task is, there's a handyman service that can help you out!
These are just some of the most common services offered by a handyman. Depending on the individual handyman or company you hire, they may have a variety of additional skills and services available.
Be sure to ask about any specialties or qualifications they may have when you're looking for the right handyman for your needs. With the right professional at your side, any task can be accomplished with ease!
Related Articles: