Permanent makeup insurance – cost and types of policies
Permanent makeup has become one of the most in-demand services in the current marketplace.
Anyone considering opening their own operation needs to be fully aware of the particular requirements for permanent makeup insurance that this unique sector requires.
The need for proper insurance for permanent makeup artists comes primarily from the higher level of risks involved in such a specialized and skill-driven occupation.
Although the rewards for permanent makeup artists are generally higher than for other related basic cosmetic treatments, they come with additional potential risks that only proper permanent makeup business insurance will fully protect you from.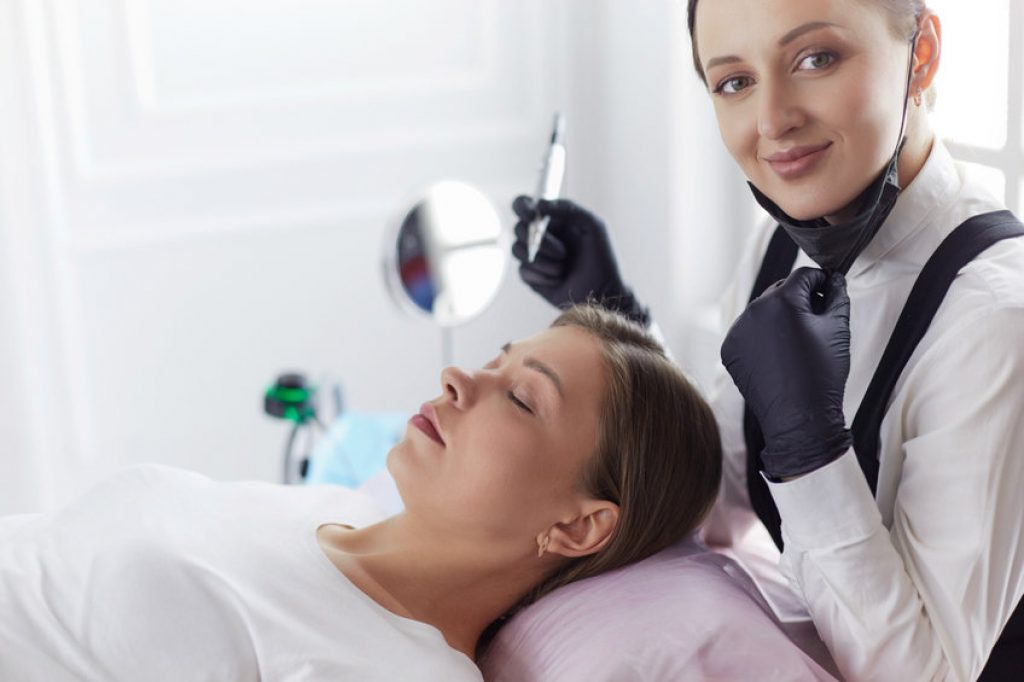 What are the main activities involved in permanent makeup?
The primary concept is to inject iron oxide or titanium dioxide pigments underneath the epidermis (outermost layer of the skin). 
Two main terminologies are used to describe the differences between semi-permanent makeup and permanent makeup – sometimes called micro-blading.
The main difference is in the method of application.
Semi-permanent makeup uses a machine with a very fine vibrating needle injecting the material into the epidermis (the most superficial layer of the skin), whereas micro-blading makes use of handheld devices and the dyes are injected more deeply.
In the rest of this article, wherever we discuss permanent makeup, the terminology generally applies equally to semi-permanent makeup.
The volume of pigment, its color, and whether electrical or manual instruments are used highly depend on the customer's requirements.
In some cases, it may be dictated by the skin condition, the area being treated, and many other factors.
This is what makes the skill level of the permanent makeup cosmetologist so essential and why a full-trained permanent makeup artist has a great chance to establish a flourishing business in the current market.
Why is permanent makeup cosmetology becoming so popular?
There are perhaps three main reasons why customers looking for treatments select permanent makeup:
Cosmetic appeal
Since there is no upper age limit on permanent makeup, even women in their eighties can benefit from the easy improvements to their appearance it offers.

Women with vision problems are common candidates
Convenience
People active in sports go for permanent makeup since it doesn't run off from sweating during activity

People working in the public spotlight like TV, film and the stage like not having to worry about the bright lights spoiling their appearance

Busy people can choose permanent makeup and save time each day by not applying and removing makeup.
Post-surgery and other medical cosmetic repairs
People suffering hair loss from treatments for cancer (radio and chemotherapies) can get their facial and hairline appearance back to normal during and after treatment

After surgical procedures on faces, nipples and other exposed parts of the body. Permanent makeup can restore their normal appearance
What are the primary forms of
permanent makeup artist insurance
All businesses involved with some kind of personal contact with their customers, such as permanent cosmetic processes, need to protect themselves with insurance.
There are three main areas of risk where proper insurance takes over and lets you get on with your business without danger:
Liability insurance

Asset protection

Workers compensation
We will explain and expand on how each of these main types of insurance is important in the case of your semi-permanent makeup insurance cover and permanent makeup insurance cover.
Liability cover
Liability refers to how your actions can result in claims for compensation in case there's some accidental bodily injury or property damage to someone, or some unwanted and unforeseen result coming from the treatment you perform or products you supply.
In any of these cases, you may be sued for compensation and have to either settle the claim or be prepared to go to court and defend yourself.
General liability refers to instances when some accident happens in or around your business, and you may be held responsible.
For example – if someone visiting your business premises trips over a loose floorboard and falls, you can be held accountable.
There are several kinds of legal damages people may sue for:
Compensation for financial losses a third-party has suffered as a result of this incident. Claims can also be made for future losses such as lost income while off work or even more severe effects such as no longer being able to work in their previous field. As well, any damages to the property of a third party coming out of such an incident may become a claim.

Compensation for indirect consequences endured by the injured party, such as "pain and suffering" or "mental anguish."

Any associated legal costs arising from a lawsuit related to the claim.
Wherever there is any risk that a member of the public could be injured or have their property damaged and could then lodge a claim that this happened directly as a result of your business.
The only way to fully protect yourself is to have proper permanent makeup tattoo insurance.
Professional liability insurance protects your permanent makeup business against a claim by one of your customers of malpractice, errors, and negligence in the execution of your services. 
This is the area of most significant risk for a permanent makeup artist since you are dealing with customers' bodies, when even a slight mistake can render permanent and visible damage.
As well, the typical customers coming for permanent makeup treatment have very high expectations, are prepared to pay top-dollar to get the proper treatment, and are very unlikely to simply shrug off any mistakes or errors.
Professional Liability insurance is sometimes known as Errors & Omissions (E&O) insurance or Professional Indemnity insurance, but most often in permanent makeup practice, it's called malpractice insurance which is also the term applied to healthcare providers.
Product liability insurance covers a permanent makeup practitioner who is also selling products directly to the public.
These products are typically related to the treatments provided, such as facial creams, dermatological ointments and skin treatments.
Usually, products that are being on-sold from recognized manufacturers carry with them an implied product liability limitation, and you cannot be sued unless you have recommended a treatment that contradicts the declared function of the third-party product.
Another possible source of liability is if you are preparing your own ointments, creams and therapy for sale.
In such a case, any adverse effects can become the source of a claim for compensation under product liability law.
Unless you carry the proper semi-permanent makeup artist insurance, you will have to be aware of the different product liability laws that apply in different states.
For example, states such as California and Maryland apply the principle of "strict negligence", but in California, the principle of 'inherently unsafe products' applies, whereas it doesn't apply in Maryland.
Putting the whole issue of product liability to sleep by having proper cover is better than to risk finding out that you are breaking enforceable laws.
Asset protection
Every business has to protect its assets from the forces of nature such as storms, hurricanes, earthquakes and floods, and from manmade risks like theft, vandalism and arson.
In this, permanent markup businesses are no different from all others.
The usual areas that you should be covering are:
Property and buildings – covered by

Commercial insurance

Vehicles – covered by

Commercial vehicle insurance

and is essential if you are using a private vehicle for business purposes

Inventory – customarily covered as part of commercial insurance policies, but it may be necessary to take out supplementary cover if you have hazardous raw metrials or very high level of inventory
In many cases, it is worthwhile finding out whether your business is eligible to take out a comprehensive Business Owners Policy (BOP).
It combines cover bundled into one insurance package for all of your main property and liability risks. It can work out significantly cheaper than buying the individual coverages separately.
Worker compensation insurance
Most states make workers compensation insurance a legal requirement for any business employing workers.
The individual state regulations set the numbers that require the policy to be enforced and the rates charged for the cover. 
It covers your employees from any injuries or illnesses resulting from work-related accidents.
Companies must also adhere to the US Department of Labor Occupational Safety and Health Administration (OSHA) regulations regarding Employer Responsibilities.
The word "employee" does not mean only full-time workers but also includes part-timers, temporary, casual workers, and subcontractors.
How much is permanent makeup insurance?
Many different factors will influence your requirements for the levels of cover you need.
These and specific features about you and your business will affect the rates that you will be charged for the cover.
It's always a good idea to talk to insurance experts like brokers and agents and shop around before committing to a policy.
Some of the factors that influence costs are your level of qualification and experience, your past claims history, the location of the business (street-front stores are more vulnerable to storms, vandalism etc. compared to offices or malls, but malls are more exposed for public liability due to volume of traffic)
In the table below, we give very general guidelines based on our own experience and knowledge, especially in dealing with businesses that operate in similar fields or with similar risks to yours, such as Estheticians, Body Sugaring clinics, Yoga instructors, Heath coaches, and Teeth Whitening services.
| | | |
| --- | --- | --- |
| Subject | Level of cover | Likely average cost per year |
| Public liability | $2 million per year, maximum $1 million single claim | $800 – $1300 |
| Professional liability | $60,000 full year, $30,000 single claim | $550 – $900 |
| Product liability | $1 million | $550 – $1200 |
| Commercial | Per $500,000 value | $125 – $345 |
| Equipment | Per $50,000 value | $120 – $250 |
| Vehicle | Based on value | $1200 – $3000 |
FAQ
How do customers choose their permanent makeup service provider?
Most potential customers will select their permanent cosmetic service provider the same way they do a doctor.
Qualifications, experience and reputation, are all vital features that will attract business.
People are very much influenced by the physical appearance of the facilities you offer.
Bright, clean and sterile surroundings in easily accessed locations will make the right impression.
Once you have obtained any necessary certificates of qualification and licenses, try to keep up-to-date with the latest development in this evolving field and be able to show your potential customers that you are pursuing continuing education.
Membership of professional organizations such as the Society of Permanent Cosmetic Professionals and the American Academy of Micropigmentation give dual benefits through its proof of your credentials, and since many potential customers will visit their website and become aware of your business through promotion of member's services.
Finally, getting your insurance for permanent makeup artist policies will be easier and cheaper if you have the credentials that go with such memberships. 
Can you get temporary insurance if you run a part-time permanent makeup tattoo business?
If your permanent makeup artist business is just starting up, or your demand is seasonal, taking out short-term insurance makes good sense.
Temporary insurance by the month, week or day could be a good option if you do not have enough continuous business over a whole year.
Many insurance policies offer the best permanent makeup insurance where you can nominate a specific period when you want to be insured.
In this way, you will save by having lower premium costs while still having the same risk covered.
You are only paying for the period of cover you need.
Short-term permanent makeup tattoo insurance means that you purchase the cover for a specific and defined period – a specific date or spread beginning on a specific date –  for example for one month beginning on the specified date.